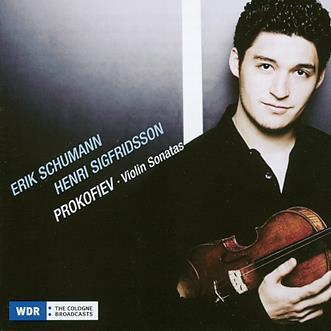 The Strad Issue: January 2008
Musicians: Erik Schumann (violin) Henri Sigfridsson (piano)
Composer: Prokofiev
Prokofiev possessed a highly complex creative personality. One minute he might enchant the ear with fresh musical slants on the Classical and Romantic traditions, then iconoclastically rail against them with outbursts of mechanistic mayhem the next. This goes a long way towards explaining the relative paucity of violin sonata couplings on disc over the years. Sonata no.2 is an arrangement of Prokofiev's glorious Flute Sonata, a work that opens with one of his most sublime melodies and ends in playful, balletic high spirits.By comparison, the F minor leans towards the unrelentingly moody, brittle and percussive.

Erik Schumann and Henri Sigfridsson surpass most previous couplings – even Itzhak Perlman's 1960s outing with Vladimir Ashkenazy for RCA – by sounding equally at home in both works. The opening Andante assai of the F minor insinuates hauntingly with a claustrophobic expressive intensity captured to thrilling effect by the dynamically wide-ranging recording. The second movement and finale are made of sterner stuff, and although these gifted artists leave us in no doubt as to the music's essentially unforgiving nature, they beguile with a flexibility of line and phrase where others battle on inflexibly.
Schumann's tonal purity and litheness pay special dividends in the D major Sonata. The Scherzo possesses an infectious smiling quality, with rhythms kept swayingly buoyant at all times. Even when Prokofiev is at his most fervently ironic and menacingly 'stuck-in the groove', Schumann alleviates the ear with a myriad of tiny shadings. The encores may ultimately lack Heifetz's demonic fizz, yet it is refreshing to hear them played without a relentless sting in their collective musical tail.
JULIAN HAYLOCK