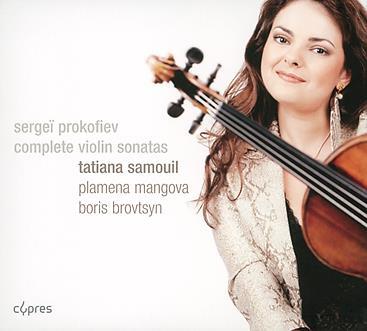 The Strad Issue: January 2006
Musicians: Tatiana Samouil (violin) Boris Brovtsyn (violin)* Plamena Mangova (piano)
Composer: Prokofiev
St Petersburg-born Tatiana Samouil brings authentic Russian grit to these performances, with real string-biting playing in the Allegro brusco of Prokofiev's First Sonata and the final Allegro precipitato of the Solo Sonata. What she brings also to Prokofiev's wide-ranging demands is a consistently focused tone that can seduce, in the charm-filled first movement of the Second Sonata; thrill, in the eroico theme of that same Allegro brusco; and lull, in the variation theme of the Solo Sonata.
Some of the most striking playing here is also the most gentle, and Samouil is a player who knows that a Prokofiev accent does not always call for a demonic attack. This is fundamentally lyrical playing, concerned with musical direction and structural shape. The Sonata for two violins is a cool delight, all subtle melodic inflections, and the Second Sonata is as fleet as a stolen flute sonata should be. Samouil's two companions prove sensitive partners, and the resonance of the recorded sound gives body while still allowing intimacy. Samouil can also create real atmosphere: the final pages of the first sonata are too chilling to be listened to alone.
TIM HOMFRAY