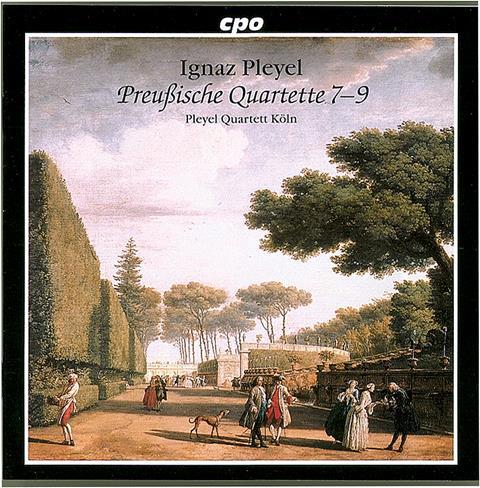 The Strad Issue: January 2008
Musicians: Pleyel Quartet Köln
Composer: Pleyel
The Pleyel Quartet Köln here offers elegant period-instrument performances of three of Pleyel's twelve 'Prussian Quartets', dedicated to the cellist King Friedrich Wilhelm II of Prussia. Unlike Mozart's last three quartets with the same dedicatee (K575, K589 and K590), these works do not give special prominence to the cello; however, they do reflect to some extent the influence of Pleyel's teacher, Haydn, and of a striking Italianate lyricism, absorbed during Pleyel's period of further study in Italy.
These players deliver the Allegros with fire and virtuosity, and revel in the concertante nature of Pleyel's part-writing. They bring an ideal warmth and lyricism to their readings and shape the slow movements with affection, conveying a sure sense of line. They find the right degree of breadth and expressiveness in the Amoroso of the D major Quartet, and bring to the variation movement of the F major such a range of character and expression that repeated passages provoke fresh nuances in phrasing, dynamics and, often, embellishment. The gravity, inwardness and rhetorical power of the G minor Quartet are particularly well conveyed.
The recording is commendable in providing the requisite intimacy of ambience. The occasional moment of impure intonation and imprecise ensemble is a small price to pay for performances of such colour, character and spontaneity. Doubting purchasers would do well to heed Mozart's view (1784) of Pleyel's op.1 quartets, expressed to his father: 'You will find them worth the trouble,' he wrote. 'They are very well written and most pleasing to listen to.'
ROBIN STOWELL