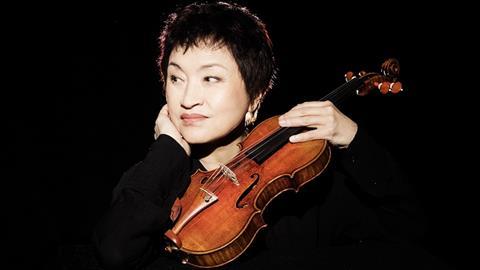 Violinist Kyung Wha Chung speaks in The Strad's October 2016 issue about her long-awaited recording of Bach's Sonatas and Partitas, fifty years after she began playing the works . Click here to subscribe or login. Alternatively, download the full article on desktop computer or through The Strad App.
My 1974 Decca recording of Bach's Partita in D minor and the Sonata in C major was made in line with what I was taught as a student by Ivan Galamian. Players such as Heifetz, Oistrakh and Szigeti all played Bach with full sound, but nowadays there is so much questioning about what the composer intended. In those days we didn't bother with urtext – all editions were fingered and phrased.
My approach on my new Warner Classics recording of the complete Sonatas and Partitas is more connected to Baroque style, with lighter articulation, even though I come from the Romantic tradition. When I was a student in the 1960s there was much more freedom of expression, and fluidity in phrasing, and in those days I didn't want to make 'ugly' sounds. Younger players today have the technique to achieve whatever they desire – they have all the historical knowledge and the past recordings to refer to. But the challenge for these players is to know who they are – to recognise their voice. They must find their own sound within each composer's idiom.
You can't relive a composer's difficult life (Bach had many troubles of his own), but I myself have lived through difficult times, in a country scarred by war and death and poverty. All Korean people yearn for peace and freedom, a yearning that strongly affects me as an artist. My faith and my music making are completely connected, as they were in Bach, who served the church with his music. He was such a pure and passionate man, and we can hear this mostly in his organ music, his Masses and his Passions, but it's clear that he loved the violin.
Watch: Violinist Kyung Wha Chung plays Bach
Read: 6 opinions on performance and interpretation by Kyung Wha Chung
Read the full Kyung Wha Chung interview in The Strad's October 2016 issue. Click here to subscribe or login. Alternatively, download on desktop computer or through The Strad App.