The Norwegian violinist's upcoming album celebrates the vast beauty of the Arctic region, which is under threat due to climate change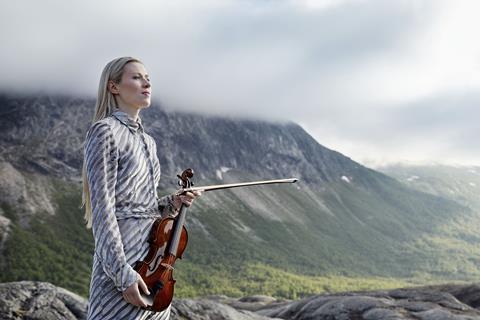 Discover more Featured Stories like this in The Strad Playing Hub
This album is a musical journey through the Arctic; a stunningly beautiful region and a fragile, largely unexplored ecosystem threatened to vanish beyond recovery under the influence of climate change. The Arctic Circle stretches over three continents and covers an area of about 7.7 million square miles – more than twice the size of Australia. It is often misrepresented as a stark and uninhabitable wasteland, but in fact, it is teeming with life and offers a powerful reminder of how all life exists within a fragile balance.
I grew up in a small town in Norway about 1,000 kilometres south of the Arctic circle, a region where many of the Nordic myths of trolls and other magical creatures originate. My mother was a violinist, and my father was an environmental scientist. Hence my world has literally been a musical journey through nature since I was a small child. I was making music with my mother and exploring the forests and mountains with my father.
When I first visited the Arctic, I had this majestic feeling I cannot quite explain. I felt a magnetic belonging to nature. I felt so small in this vast landscape and realised that I am just a tiny element in the grand cycles of nature and there's nothing I can do about it. Since then, I have been drawn to this fascinating region. With the Arctic project I wanted to create a musical journey through the Arctic and show people how magnificent and fragile this ecosystem is and remind them that we need to protect it. Large parts of it have never been explored at all – just think of the discovery of huge underwater colonies of fish during the 2020MOSAiC expedition. Even though the Arctic circle only covers about 4 per cent of the world's surface, it's crucial to global climate and affecting us all. It is the beating heart of both, large ocean currents like the Gulf Stream as well as air currents like the Jet Stream. The Arctic Circle is one of the regions that has seen the largest increase in temperatures due to climate change in recent years, which has a devastating effect on the ecosystem.
It was a challenge to find a way of translating the Arctic and all the feelings I associate with being in this region into music. I wanted to combine unique and memorable melodies with a vivid orchestral sound that matches the grand panorama of the Arctic to create a kind of film score for the concert hall, a soundtrack for a journey in your mind. I am deeply grateful for the opportunity to collaborate with so many great composers and musicians to bring this vision into life.
I recorded Arctic on my incredible 'Rivaz' Strad. It is a very special violin, one of the best violins I have come across! It is so bright and brilliant while having such an incredible depth and soul. When I play on it I feel the vibrations from the violin on my shoulder and the power from it. I am so grateful to Dextra Musica Foundation for letting me play on it.
Made at the beginning of what is now known as Stradivari's 'Golden Period' (roughly 1700–1720) from which most of his masterpieces come, this violin has survived in fine condition. First recorded in England around 1800, a wealthy London stockbroker named Alexander Rivaz bequeathed it to the Hungarian virtuoso Joseph Joachim in 1864, but from the 1880s it has been in possession of a series of collectors and largely escaped the demands of concert performance. The back is carved from a single piece of beautifully figured maple. It was previously played by Joachim (1831–1907) and Kenneth Gordon (b.1930). From 1957 it was played by Kenneth Graham, concertmaster of the New York Philharmonic Orchestra, before Janine Jansen.
I wanted to focus on creating a shimmering, lush soundscape and played around a lot with colours in both bow hand and vibrato. For me, not having too much hardness was important. I focused on incorporating more warmth in sound, with quicker bow movements, than the usual 'steel core' – which would be necessary for a concert hall. I also tried not to make the sound too romantic but more colourful and lyrical. The Arctic region is so pure and beautiful, and it was important to connect the sound to that.
I hope this album gives you the opportunity to travel through the Arctic in your mind to discover its beauty which we should protect for future generations.
Eldbjørg Hemsing's album Arctic will be released on Sony on 3 February 2022.