Founder and artistic director of the Heartbeat Music Project Ariel Horowitz speaks about the tuition-free programme offering music and Navajo (Diné) cultural education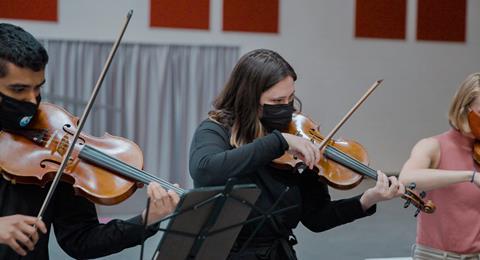 Discover more Featured Stories like this in The Strad Playing Hub
'The Heartbeat Music Project will never erase the injustices carried out against Indigenous peoples. Yet, it seems to me that each small step is a moment of reparation' - Sharon Nelson, executive director, Heartbeat Music Project and assistant professor of Diné Culture, Navajo Technical University.
It's a breezy spring day in late May of 2022 as I open the door to the Hogan at Navajo Technical University (NTU). The NTU Hogan brims with the cacophony of children picking out tunes on violins, electric pianos, flutes, oboes, and guitars — far too excited to wait for the daily activities to formally begin. A smartboard has taken up residence since I was last here, and dry erase boards are filled with Diné language, culture, and ideas from classes past.
During the academic year, the NTU Hogan is the central hub for the Diné Studies Department, where my colleague, honorary Auntie, and Diné (Navajo) knowledge keeper Sharon Nelson oversees the study of Diné culture and language. During NTU's summer and winter breaks, the space at this renowned Tribal College is home to us: the fun-loving, Twinkle-Twinkle-Little-Star-playing, radically eclectic group of teaching artists, students and community staff who make up the Heartbeat Music Project (HMP).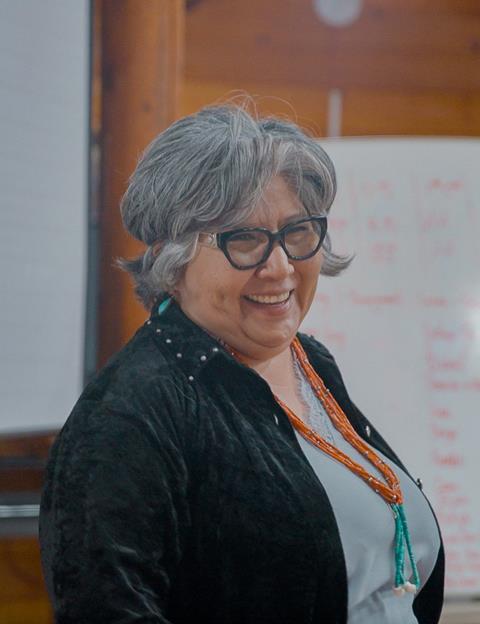 'This grew out of the community because it was needed. And it just so happened that our lives intersected one another at the right time to nurture it. That's true. And to me, that's a godsend,' says Nelson.
HMP started in 2016 just as Sharon said — two people intersected. Sharon was a student at Navajo Technical University, after a successful career in public education, and I was a student at Juilliard after a whirlwind childhood of violin and international competitions. Sharon met my mom, Amy Horowitz, first. Mom—an anthropologist and arts activist specialising in cultures in disputed territory—was an Indiana University faculty member who, alongside Sharon's NTU mentor Dr. Wesley Thomas, co-founded an organization called GALACTIC focusing on Indigenous Global Studies.
In the early days of GALACTIC, Dr. Thomas was on a lunch break with my mom and Sharon when he brought up his love of violin and how much he wished he'd had the opportunity to study as a child, and that conversation initiated what we now know as Heartbeat.
A few months later, Dr. Thomas and Sharon invited me to come out to Navajo Technical University to offer tuition-free music lessons to local children. At 19, I had no teaching experience and—despite my upbringing in a multiracial, Jewish, lesbian, arts-activist family— little knowledge of Indigenous experiences. With a vast learning curve ahead of me, HMP came to life.
Those few days of music classes in 2016 grew into our two-week Summer Academy. When we all missed each other too much during the year, we added our Winter Workshop. When Covid prevented us from meeting in person, we pivoted to support Navajo families battling intersecting health and socioeconomic pandemics and hosted virtual fundraising concerts. We partnered with local teachers and artists, including the American Indian Musicians' Scholarship, an initiative begun by Diné pianist and musicologist Renata Yazzie (also an HMP Teaching Artist), provisionally housed by HMP, offering scholarships, mentorship, masterclasses, and more to Indigenous undergraduate musicians around the country. We created virtual social gatherings, 'Heartbeat Hangs' to spend time together.
We have grown into a vibrant year-round, tuition-free programme where we prioritise Diné culture, language, and knowledge as central to our pedagogy. In this way, Diné cultural teachings not only go hand-in-hand with the solid music education that we provide to our students: these teachings are the foundation of our entire pedagogy and curriculum.
'Being Navajo is an important part of myself, and in a way it goes into my identity as a person,' says Natalia S., HMP alumna and teacher-in-training. 'I, after hearing so many stories from Sharon…it amazes me about how beautifully enriched our culture is. The stories that she would tell, such as coyote and skunk…I loved hearing those stories. Navajo studies was one of my favourite parts of the day.'
In 2022, we were awarded generous support: The Lewis Prize for Music Accelerator Award, a $500,000 prize given to select organisations offering music education in underserved communities. With this award, we now serve more students and offer meals, rides, instruments, mentorship, and weekly virtual and in-person private lessons with renowned musicians locally and globally.
Of course, everything is political, and coalition building is at the heart of what we do. A Diné child learns Twinkle, Twinkle, Little Star on a violin or piano—European, colonial instruments—a Diné teen creates electronic music in production class or plays the traditional Cradleboard Song as sung by Diné singer Sharon Burch. Our diverse Teaching Artists create bonds with our students and their families and community. All of this foregrounds the political and personal acts of coalition building through music.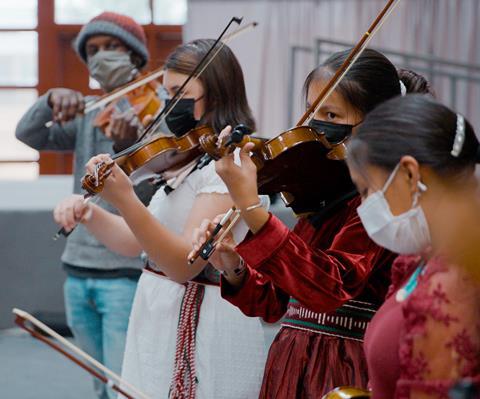 "The main thing I want people to know is that Heartbeat is really focused on equity,' says HMP student Aspyn K. 'Heartbeat wants to bring equitable music education to rural communities on the rez.'
Another HMP student, Elijah S., agrees. 'You get all this positive energy from these musicians. And not all Native kids experience that.
I never imagined that Heartbeat would grow into the organisation it is today. In the beginning, it was just Sharon and I. I made music with the kids and Sharon taught Diné language and culture. We organised concerts for grandmas and aunties, and left lots of time for laughter and fun. I never imagined that several students — many of whom started as beginner musicians just a few years ago — would be leaders in their youth orchestras, attend summer festivals all over the country, and now, return to teach at our upcoming Summer Academy in 2023. Our HMP family is in constant awe of our students, whether they're introducing themselves (Diné language introductions include each student sharing their four clans and hometown!), helping a friend feel included at recess, sharing fun tunes during a Heartbeat Hang, or performing a new piece of music.
'Something I would like people to know about HMP is how much it can affect someone, teaching or learning,' says Tahyo Y., HMP student and teacher-in-training. 'Music can be a great outlet to express yourself, and HMP can help you start that.'
'We still have intergenerational traumas from many colonial systems,' says Nelson. 'It is critical that students begin to feel freedom from these traumas. A way to do that is through musical expression. Music, to me, is love, it is community. This program has shifted the way our young generation is creative with their own design of self-expression. If we keep track of these students, later on in life they're going to say, "This music programme saved me." That's how I see it.'
HMP supports Diné K-12 youth through the intergenerational transfer of culture, language, and music. These teachings push back on settler colonialism, a system that devalues Indigenous music while elevating Western music genres. By offering Diné and Western music education simultaneously, HMP disrupts the colonial project and provide Diné youth equitable access to heretofore 'elitist' knowledge. Students engage in an organic confidence building process in which they strengthen and give voice to their own culture and reimagine Western music genres, creating emergent artistic traditions that help shape postcolonial local and global musical cultures and are sustained within the greater Navajo community.
Violinist Ariel Horowitz is on the Concert Artists Guild roster for North American management, and enjoys an active concert schedule both as a soloist and as one-half of Vision Duo, an ensemble formed with fellow CAG artist Britton-René Collins in 2021. Ariel is the founder and artistic director of the Heartbeat Music Project.
All photos courtesy Albert Tong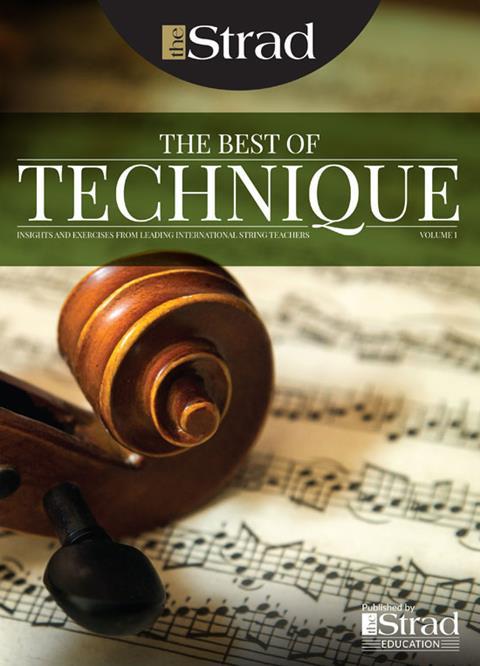 In The Best of Technique you'll discover the top playing tips of the world's leading string players and teachers. It's packed full of exercises for students, plus examples from the standard repertoire to show you how to integrate the technique into your playing.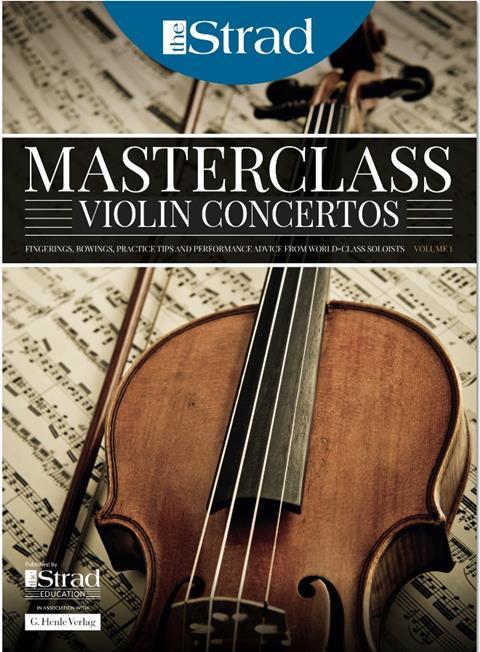 The Strad's Masterclass series brings together the finest string players with some of the greatest string works ever written. Always one of our most popular sections, Masterclass has been an invaluable aid to aspiring soloists, chamber musicians and string teachers since the 1990s.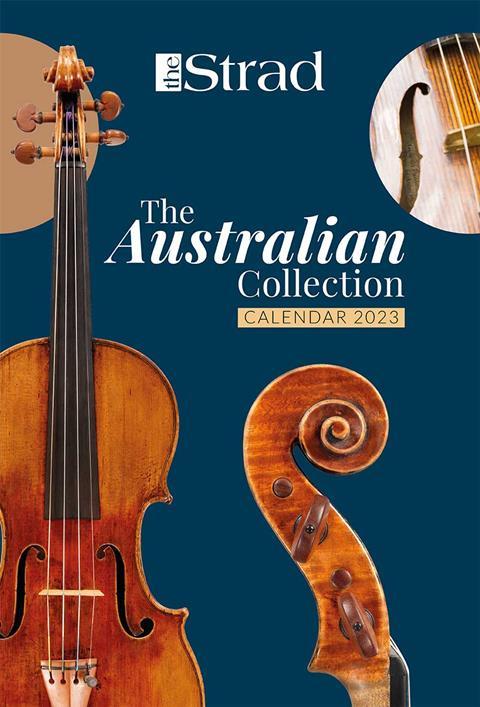 This year's calendar celebrates the top instruments played by members of the Australian Chamber Orchestra, Melbourne Symphony, Australian String Quartet and some of the country's greatest soloists.