Richard Strauss's song Morgen! proved to be the Dutch violinist's route into cross-genre performance – and one of the most popular pieces performed by his trio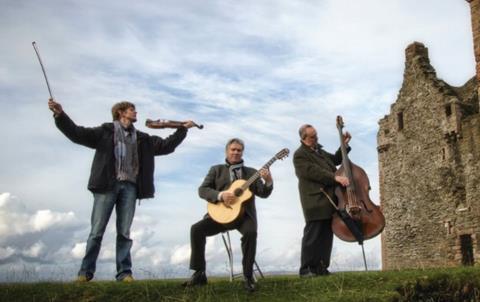 Richard Strauss's Morgen! opened up a new world of opportunities for me, and performing it for the first time in concert was a pivotal moment in my career. Before that, I was almost exclusively a jazz violinist, and although I'd thought about combining jazz with classical, the right direction hadn't struck me yet. In 2006 I was contacted by Bernd Gellermann, artistic director of the Richard Strauss Festival in Germany, who asked me to perform. There was one condition: the programme had to include pieces by Strauss. I wasn't sure if I should take the offer, but I remembered the advice Stéphane Grappelli once gave me: 'Say yes to everything, because opportunities don't grow on trees!' So I started going through all the Strauss pieces I knew. None of them seemed right for an improvisation, until I got to the four songs he wrote in 1894, as a wedding present for his fiancée. I chose Morgen! ('Tomorrow!') and Heimliche Aufforderung ('The Secret Invitation') and performed them both at the end of the concert.
The audience was entranced and the reviews next day were terrific; but at the end of the concert I was introduced to Strauss's grandson, who was there as the festival's patron. He knew what was going to happen beforehand, and maybe he was predisposed not to like it. He told me in no uncertain terms that there was only one correct way to perform his grandfather's works, which is a view I've always been suspicious of. No one can say for sure how these pieces were played in 1894, and the 20th century saw so many changes in performance that what we consider 'correct' today might have nothing to do with how Strauss originally heard it. But as it happened, Strauss's great-grandson was there as well, and he got it immediately, saying how glad he was that this music could be played in such an innovative way. So maybe the fourth generation grasped something about the composer that the previous one couldn't!
Since then, I've played Morgen! many times with my band, the Tim Kliphuis Trio, usually as an encore. As we don't have a vocalist, I read out the lyrics at the start, although most audiences are already familiar with the piece – there's a frisson of excitement that goes through them when I announce it from the stage. The beauty of it is that the one-verse poem means different things to every listener, so the improvisation can take on a myriad of meanings as well. The first line: 'And tomorrow the sun will shine again' has a particular resonance right now, for example, given the state of the world during the pandemic. Once we performed it at the Thaxted Festival in the UK, and a woman came backstage afterwards with tears in her eyes, as she said it had reminded her so vividly of her late husband. It's amazing that this piece, written for a wedding, could cause such a powerful reaction.
As Morgen! was one of the first times I'd improvised on a classical piece, it helped me understand how different it is from jazz. As well as being technically different – requiring more long bowings, for instance – it needs a different style for every composer. Strauss demands a very different way of playing from, say, Vivaldi, and it's important to study the score to find the clues as to what the composer was aiming for. I also try and listen to multiple recordings – Elisabeth Schwarzkopf's interpretation of Morgen! (bit.ly/3riPiqF) is one of my favourites. I don't believe there's much merit in reading biographies to find out what the composer was doing while writing the piece, but I think that everything you need to know to understand the meaning can always be found in the score.
Read: Ludwig Quandt: Life Lessons
Read: Sentimental Work: Matt Haimovitz
This article was published in the October 2021 Janine Jansen issue

The Dutch violinist performs on twelve of the world's finest Stradivaris for a new recording and documentary. Explore all the articles in this issue . Explore all the articles in this issue

More from this issue…