The Preludio and Gavotte en Rondeau from Bach's Violin Partita no.3 were the violinist's key to the Sonatas and Partitas – and provide meaning in the depths of the Covid-19 pandemic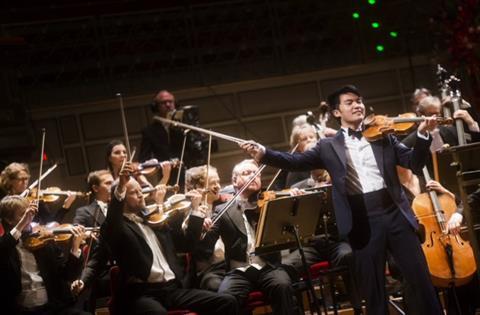 They say music is a universal language and for me, if I want to connect with any group of people, I'll bust out my violin and play Bach. I've played his works for the most varied crowds you could imagine, from children in rural Taiwan to the Swedish royal family at the 2012 Nobel Prize concert. I love the impact the Sonatas and Partitas have on all kinds of audiences; I'm always aware of how they're reacting when I'm on stage, which is why I always sound better than in rehearsal – my ideas are strengthened by that connection. The Preludio and Gavotte en Rondeau from the Violin Partita no.3 are probably the Bach pieces I've played the most, and the ones that have been with me the longest.
The Preludio was the first part of the Sonatas and Partitas I ever learnt. I needed a solo piece for a competition, and I thought it was a good place to start – it's not too hard to understand and has a feeling of freshness and security, of being out in open mountain air where everything is free and exciting. Like the 'Spring' section of Vivaldi's Four Seasons, it's like a doorway to a new world. I also think it's not quite as intimidating as the rest of the Sonatas and Partitas, and there's less chance of getting into trouble when you play it! Then I skipped over the Loure and went into the Gavotte en Rondeau, which again is a happy-sounding tune but has so many more facets and variations that it becomes a very layered kind of piece. One of my great mentors, the conductor Christoph Eschenbach, told me that you can never play a repeat exactly the same way twice, because when you come to it, you're a few seconds older than where you were the first time around! That's how I feel about the Gavotte en Rondeau – it's impossible to play it twice the same way, as it'll always affect you differently, and you'll come to it a different person every time.
Each movement in the Sonatas and Partitas is like a song, conveying just one or two emotions each time. And even though I might not be feeling the emotion at the time, I have to play it that way. With a much larger piece, like a concerto, you can pick out moments that really relate to you in that moment and bring those out, but I think Bach showed me that musicians must to some extent be actors, to bring the necessary emotion to the piece.
Read: Sentimental Work: Amanda Forsyth
Read: Sentimental Work: Anssi Karttunen
Read: Sentimental Work: Tasmin Little
During the lockdown I recorded six separate movements from the Sonatas and Partitas, beginning with the Preludio and ending with the Gavotte en Rondeau. I put them together as a kind of narrative of how I was feeling during the pandemic: beginning with fresh, excited emotions, perhaps held over from before the lockdown; then the Fugue in G minor which gives a sense of worry with lots of different voices clamouring to be heard. Then an Allegro and Sarabande bring in a theme of isolation and frustration, then a sense of hope in the Largo, and finally the Gavotte en Rondeau, which in a way is a representation of all the other movements put together. My way of playing it has certainly changed from before the lockdown, just as the pandemic has changed all our perceptions.
For me, this is why classical music works so well. A life-altering event like this pandemic brings a buzz of different conflicting feelings into your brain, while you still have to get on with your daily tasks as well as you can. Music works on you like a meditative process, channelling your thoughts, affecting you on so many deep levels; it draws out your emotions like giving a massage to your soul.
This article was published in the December 2020 'Willemotte' Stradivari issue

The late-period violin's strong personality is the perfect match for its current owner Leonidas Kavakos. Explore all the articles in this issue. Explore all the articles in this issue

More from this issue…