Kati Debretzeni, leader of the English Baroque Soloists, explains the thought processes behind her recent Bach recording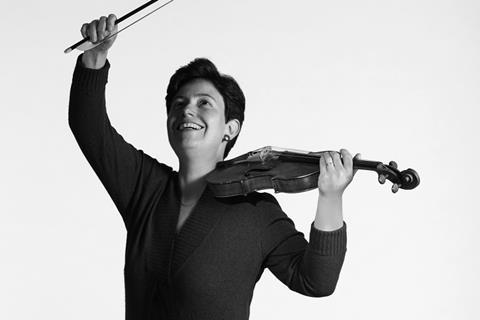 When the opportunity arose to record a CD of J. S. Bach's violin concertos with John Eliot Gardiner and my colleagues from the English Baroque Soloists, there were quite a few things to ask: what to record? What instrument to use? What should the orchestral forces be? Where to do it? And these were just the practical questions, before getting into the nitty-gritty of interpretative choices of tempo, articulation, characters…
By the time we assembled in the wonderful acoustics of St Jude-on-the-Hill in Hampstead Garden Suburb last December, the practicalities were all in place, following some concentrated months not only of playing preparation, but also of preparing a new arrangement of one concerto.
The easiest decision to take was that of the instrument and bow: since the unforgettable Bach Cantata Pilgrimage in the year 2000 (when the English Baroque Soloists and the Monteverdi Choir performed and recorded all of Bach's church cantatas) I have had the good fortune of playing a lovely Italian violin from about 1770, most probably from Napoli, made by no-one quite knows whom. It has an earlier set-up than its year of construction, a thick neck, a fingerboard able to accommodate very high positions required for Vivaldi or Locatelli but considerably shorter than a modern one, and a high-Baroque bridge.
I use it for Baroque repertoire from the second half of the 17th c. onwards, and it has become a trusted friend - there was no doubt in my mind as to its ability to project well and provide the colours needed for this undertaking.
For Bach I use a long-ish Baroque bow made by the British maker Matthew Coltman, able to sing in slow movements, yet flexible and balanced for all articulation and colour possibilities of the fast outer movements.
Having decided to combine well-known repertoire with the slightly more adventurous, I started with two perennial favourites, the A minor BWV 1041 and E major BWV 1042 concertos, long-time acquaintances whose every turn was ingrained in a way only years and years of playing them many times can give. They were now presenting me with a chance to re-examine ideas about phrasing, structure, or the interplay with the orchestral parts.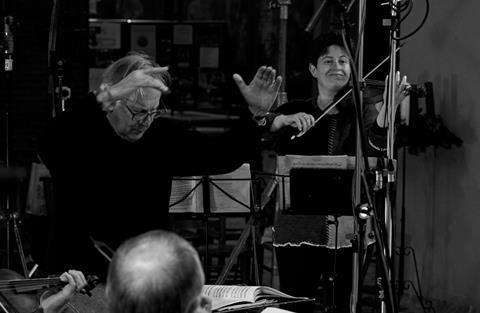 I then chose two harpsichord concertos to 'adopt', taking a leaf out of Bach's books and reversing what he himself did when arranging his violin concertos for the harpsichord (the A minor and E major violin concertos and the 4th Brandenburg Concerto have survived as harpsichord pieces in Bach's own autograph). The monumental D minor harpsichord concerto has long been thought to have first seen the light of day as a violin piece, and various reconstructions exist from the 19th c. onwards. I ended up basing the arrangement on Wilfried Fischer's reconstruction, adding a few details from the orchestration of Bach's harpsichord version.
This was by far the most technically challenging of the four pieces to prepare, but also one of the most gratifying, as it brought back memorable moments of performing Cantata BWV 146, 'Wir müssen durch viel Trübsal' during the Pilgrimage, a piece in which the most sublime choral writing is superimposed upon the organ version of the first two movements of this concerto.
Last but not least, I decided to make my own arrangement of another harpsichord concerto, that in E major BWV 1053, for the violin. The reason for this was entirely selfish - the middle movement, a heartfelt 'Siciliano' which appears in another Cantata (BWV 169) is one of my 'Desert Island' pieces of music. It is eminently suitable for the violin, and here was a chance to play it. Another reason was that the orchestral parts of this concerto are such that the soloist is more like 'primus inter pares' in the first movement, which gave me the chance to enjoy many intimate chamber-moments with my colleagues and friends.
The orchestral forces Bach used for his concertos were very small, most likely single strings. However, there are very good arguments in favour of using a slightly larger group than that, as he had done in Weimar and Köthen, and we decided on this more 'orchestral' sonority. Throughout the last 25 years of my musical life I have had the chance to absorb the fruits of John Eliot Gardiner's musical affinity with Bach, and have played innumerable cantatas, passions, masses from the leader's chair in front of him.
I have been steeped in the continuous emphasis of the three main elements in Bach's music: dancing, speaking and singing. When the recording sessions started, it felt like a musical dialogue was had between people (orchestra, musical enabler/conductor and soloist) who all spoke very much the same language, and the process was an easy and fluent one. How lucky to have had the chance of engaging in such detail with this thoroughly life-enhancing music!
Kati Debretzeni's recording of Bach's Violin Concertos is out on 15 November on the SDG label. Pre-order now via: https://smarturl.it/BachViolinConcertos.