The principal violist of the London Sinfonietta on the importance of reassessing our musical opinions and the necessity of rethinking music education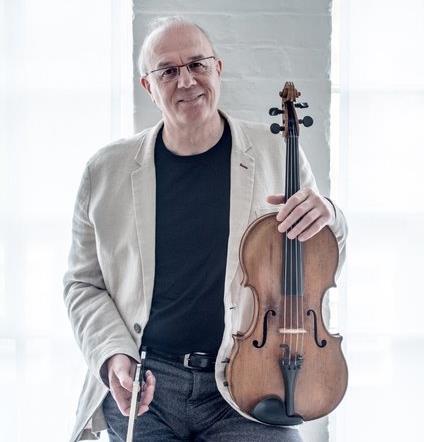 After I'd been studying violin at the Royal Academy of Music for a few years, my teacher Clarence Myerscough asked me if I had ever thought of playing the viola. Coming from a violin teacher, it seemed a little dispiriting. But when I picked up the viola I found a voice in it and knew it was for me. My 13 years with the Medici Quartet were very important in forming my ideas about music and we were all inspired by our time with pianist Clifford Curzon. We were somewhat overawed by the great man. When I had a passage accompanied by him, I would be too tentative until he said 'Play how you want; then I can follow you!' Most of one's time as a viola player is spent fitting around others, not the other way around. From Curzon's guidance I learnt the skill of switching personalities between soloist and orchestral musician. After my time in the Medici Quartet, I was asked to fill in at the London Sinfonietta and LSO, and became a member of both shortly after. The combination was exhausting but gave me access to a tremendous array of different styles and repertoire that formed the way I now understand and see music.
I am always surprised when students come to me claiming they have 'learnt' a piece. Learning is a continual process, and there is no limit to which we can review and question our musical ideas. I would strongly encourage young musicians, violists especially, to arrange works for their instruments. This helps them to find a voice on the instrument, as they begin to learn how it truly works. I have made all sorts of discoveries by questioning the score, and if I find myself blindly accepting a conventional approach, I change it. Also, when the composer is still alive I try to instil a sense of interrogation and collaboration in the rehearsal process. We have much to learn from contemporary music scene, which I have always been deeply involved in. You can't pre-judge completely new music: you must work in it, live in it, and only judge it once you've taken it all the way to the performance.
Only when you leave your studies do you realise how much time you had to practise compared to when you are making a living. Once you're out there you need to have everything figured out to deal with the stresses of the real world. Particularly with Covid-19 and Brexit, classical music is becoming an increasingly uncertain career and I worry for the talented musicians about to enter the profession. There is also a lot of pressure to increase diversity. But this is a process that must grow organically. If classical music is introduced to children early on, it will naturally become a part of their lives and our culture. This will help to ensure a richer and more diverse future for classical music.
INTERVIEW BY RITA FERNANDES
This article was published in the July 2021 Carlo Bergonzi 'Baron Knoop' issue

Micro-CT scanning technology reveals the secrets of the 1735 Carol Bergonzi 'Baron Knoop' violin. Explore all the articles in this issue . Explore all the articles in this issue

More from this issue…