The Strad's editor Charlotte Smith introduces the October 2021 issue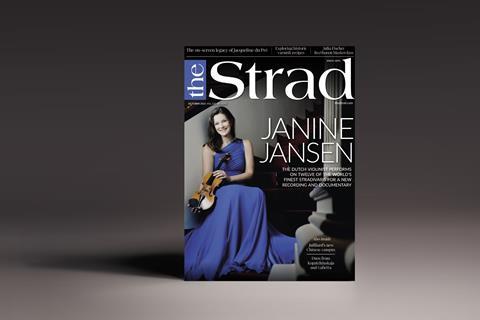 For most string players, performing on a priceless Stradivari is the stuff of dreams – even the idea of handling such a valuable and historic instrument inspires exhilaration and trepidation in equal measure. Janine Jansen, one of the world's most admired soloists, has performed on multiple high-calibre Stradivaris throughout her career, including her current 1715 'Shumsky, Rode'. Yet recording her new album – which required the Dutch violinist to become familiar with twelve celebrated Stradivaris in a matter of weeks – was at times an overwhelming experience. As Jansen tells Pauline Harding on page 26, the sheer variety of tones and textures threatened 'to make the head explode', particularly given the need for different bows, strings and playing styles to bring out the best in each instrument.
The documentary that accompanies Jansen's album is a key part of the project – one that allows viewers an inside perspective on the joys and difficulties of matching appropriate repertoire to the twelve violins. In the 1960s and 70s, film maker Christopher Nupen offered similar insights into the life and artistry of British cellist Jacqueline du Pré, contributing in no small part to her legendary status. On page 44 Nupen recalls the time he spent with du Pré – both on and off set – and their special friendship, which remained close throughout her battle with multiple sclerosis.
Du Pré's most famous instrument was the 1712 'Davidov' Stradivari, whose burnished tone can be heard on her groundbreaking 1965 recording of Elgar's Cello Concerto. For centuries, the composition of mineral varnishes used by Stradivari has been a source of speculation – and the subject of only partial analysis. On page 38 Balthazar Soulier, Stefan Zumbühl and Christophe Zindel present the first results of their comprehensive survey of classical Italian varnishes, obtained by collecting and analysing micro-samples from multiple locations on 30 instruments. The results point to even more complicated formulae than previously assumed – another small step in our understanding of the master luthier and his contemporaries.
Charlotte Smith editor
Email me at thestrad@thestrad.com or tweet @TheStradMag