Students and colleagues of Gwilt share their memories of the celebrated cellist, who died last month aged 91, in this compilation from his wife Dawn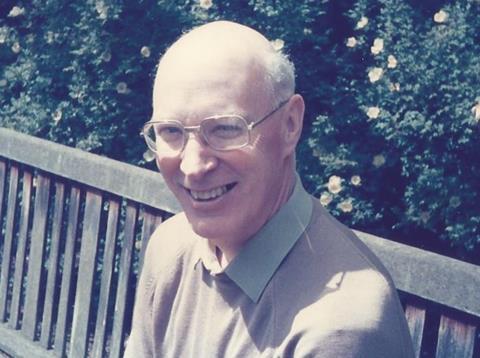 John Gwilt (15 March 1930 – 26 September 2021)
Some quotes from students and colleagues:
Lucy Cowan: John was part of our family for as long as I can remember: as children, Maeve and I used to go to sleep upstairs in Winchester listening to his and David's wonderful rehearsing together in the music room below. And I have treasured memories myself of playing together with John, in particular the Brahms Double concerto in Austria; the Kodály Duo and David's Bagatelles … he had a lovely sense of humour too - we had a lot of laughs rehearsing together
Richard Gwilt (John's nephew): John's cello playing - very like him - was not at all flashy, but extremely expressive in his so typically understated way. The Bach 5th suite - one performance of which I found an ancient cassette tape recording some 6 years ago - must have been recorded in the early 70s! And also, a movement with loads of thirds by Tovey - presumably the first movement of his Sonata for solo cello. Sadly I can't find a recording, it wasn't a concert - just an impromptu play-through in his room at Edrom. But I remember so well the calmness and peace conveyed in those magnificently sonorous thirds.
Annette Isserlis: One of my strongest memories of John is of a Saturday morning coaching session at ICC in Ladbroke Grove, where we were struggling with Dvořák's 'American' Quartet. I should add that, although I was 17, I had only been learning the viola (from scratch) for a year or less. John listened impassively for a few moments and then stopped us. He described the scene we should be picturing as we played the opening: rustling leaves; the sun glinting in the brook; birdsong…and then, looking meaningfully at me, a wild boar comes crashing out of the undergrowth!
David Waterman (cellist, Endellion String Quartet): John certainly opened the door for me to a new life. In about 1975, I was having lunch with a cello acquaintance who casually mentioned that her back garden backed onto another garden of a building known as the International Cello Centre. She had lived there for about a year without finding out what it was all about, so after lunch I insisted we should knock on the back door and ask about the ICC. The kindly and welcoming man who opened the door was John, who promptly and generously invited us to come back in an hour to attend a master class. That was the first time I met Steven, Jane and John .. Steven played the Rococo Variations and then a sublime performance of an arrangement of a Bach Organ toccata piece. Jane gave an inspiring class. My life changed.
John was always such a friendly and stabilising presence whenever I visited Edrom or Ladbroke Grove. I can't imagine how the ICC could have managed without him.
Justin Anderson: My lasting memory of John was his relentless loyalty and gentleness. Loyalty to music, loyalty to the Cello Centre, to Jane and the family and to his beloved Westie Barra. Whilst never a counsellor (his loyalty would not allow), his presence alone was such a sobering and supporting influence to a wide-eyed 16 year old student in the magnificent but, on occasion, turbulent times at Edrom House.
Michael Martin: His wonderful dry sense of humour always added a light touch to his lessons. I still reap the benefits of his encouraging and methodical teaching on a daily basis in my playing.
Donald McDonald: I learned a great deal from him and instinctively recognised a noble spirit accompanied by a somewhat reserved but wonderful sense of humour. I reminded him in an email sent not so long ago of his 'chin' technical solution for the three-octave leap from D to D in the first movement of the Haydn D major. I nearly fell of my chair with laughter when he demonstrated the vibrato!
One of his unusual skills regarded his use of rosin: he managed each cake until eventually it became like a circular After Eight mint! I'll never know how he achieved this- it must have been the mathematical and geometric mind he possessed. Like any true Scot - he was'nae mean but 'careful' with his assets! I remember the look of pride he gave me when I noticed his 'wafer thin mint'!
Steven Isserlis: Those of us studying with Jane Cowan at the Cello Centre in London and Scotland were lucky enough also to have lessons with her co-director John Gwilt. He was Jane's rock, a quietly humorous man who provided much-needed stability at the Centre; where Jane was an inspired visionary, John was practical, wise and thoughtfully helpful, with his own brand of unshowy charisma. Unlike Jane, John still gave concerts - both public and private - to which we all looked forward. At the romantic setting in Scotland (Edrom House) to which the Centre migrated in 1974, John would sometimes play the Bach suites for us students in the evenings, sitting in front of the log fire; it was a wonderful way to be introduced to these masterpieces. We all looked up to him, respecting his profound musicianship and enjoying his company and wit. He was a deeply loveable man.
Read: 'It's important to be emotionally authentic – you mustn't give false messages' – Steven Isserlis
Michael Martin: I remember one of the puns John came out with during a listening class at Edrom. After listening to a recording from Finland of a violinist playing some Beethoven, he commented 'Helsinki with this performance, but I'm not.'
Yes, I always liked his dry sense of humour.
Catherine Manson: Yes I too was reminiscing about that wonderful dry wit of his. In fact whenever anyone says 'dry sense of humour' I always think of John. The first time I heard that description used was when John and Dawn were coming to our house to play quartets with Jonathan and me (about which there are many more serious memories which remain incredibly precious to me). On one occasion, John apologised for having to change the time of the visit, explaining that he had needed to attend an appointment with the barber in Duns, adding: 'it was a real emergency haircut!'
David A. Black: I have memories of him as an artist and a teacher, in both of which capacities he was very influential on me and extraordinary by any measure. I sometimes think, though, that the most quintessential memory of John I have is of a dinner at the hotel in Chirnside. He'd ordered tongue, as he often did. Someone said to him: 'You really do like tongue, don't you?' and John replied: 'I agree with Mozart about the importance of silence. That's why I eat them so assiduously.'
One more memory, which only works if you know that John went bald from his mid-20s. John, Lucy Cowan and Christopher Cowan played the Beethoven E-flat Trio op.1 at a stately home in the Scottish Borders. Someone said to John afterwards: 'That looks like it's a lot of fun to play.' 'Yes,' John replied, 'you can really let your hair down.'
Read: Ludwig Quandt: Life Lessons
Read: Gary Karr: Life Lessons