The violinist shares his insights on the piece with The Strad, including approaches to tricky passages and his favourite moments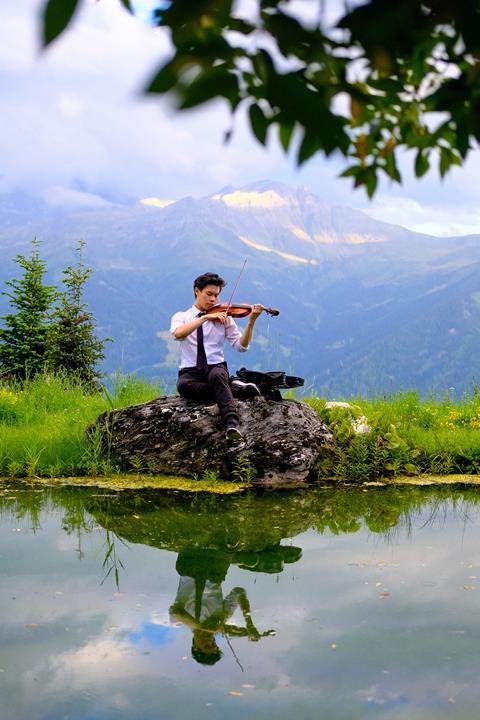 Discover more Featured Stories like this in The Strad Playing Hub
When did you first come across Bruch's Scottish Fantasy?
I first was introduced to Bruch's Scottish Fantasy when I was around eleven years old. I remember hearing a CD recording of it in the car, as it was compiled with the popular Bruch Violin Concerto no. 1 which I was learning at the time. I loved the piece immediately, with its exotic, folklore-like melodies. I had absolutely no idea about what this piece was or what the composition was, but I thought it was a funny title!
It's always been a dream of mine to learn, and I've fiddled around some passages in my teens, but this piece was one that I learned during the Covid quarantine. I performed it officially for a small group of friends a couple of months ago, so it's a relatively new piece for me, and a first with orchestra.
For violinists who are learning the piece: what's the most challenging section or technique for you, and how do you overcome it?
I think the most challenging section for me is the first few pages of the finale. It has rapid and virtuosic runs of arpeggios, chords, and octaves in a key that's awkward on the violin. It's all in this uncomfortable key of E-flat major and it can be a hassle to train our fingers to adapt to this type of passage. I have a crazy way of practising these kinds of passages – I actually go on the piano and start playing on there. Something about playing these awkward and fast passages on another instrument broadens my insights and gives me clarity on what I can listen to in difficult technical passages like in this movement.
What is the best part about performing this piece?
The best part of performing this piece is how it is so expressive, nostalgic, and virtuosic all at the same time. It doesn't feel like it's a concerto, but more a classicised version of a collection of Scottish folk tunes which in itself is a creative form of composition in relation to its time.
I personally LOVE folk tunes, as there are so many ways to interpret and add my own flavour to them.
I love the third movement, it's by far the best part for me! This movement utilises the Scottish folk song, I'm A' Doun for Lack O' Johnnie, and I first heard this version of this song by Vanessa Mae when I was probably around three years old. Although this isn't the original source of where this song comes from, it gives me a nostalgic and wide scope of emotions of hearing this iconic melody for the first time. It gives me this larger-than-life feeling because it was used in a popular context before.
Timothy Chooi performs with the Royal Liverpool Philharmonic Orchestra on 19 January at Philharmonic Hall, Liverpool. The concert, directed by Domingo Hindoyan, will be streamed on Medici and broadcast on BBC Radio 3.