Virtuoso bassist and conservatoire professor Leon Bosch explains how he introduces the Bach Cello Suites to his students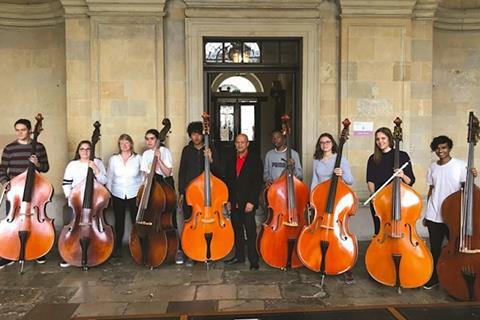 The following is an extract from The Strad's September 2020 issue in which double bassist Leon Bosch writes about teaching and performing Bach on the double bass. To read in full, click here to subscribe and login. The September 2020 digital magazine and print edition are on sale now.
Performing Bach's Cello Suites on the double bass requires a sophisticated level of instrumental virtuosity, not least extensive use of thumb position and the mastery of complex bow strokes. Contrary to the oft-employed practice of using Bach's music to teach thumb position, Chris West, my fellow professor at Trinity Laban, insists that mastering thumb position should come first, and for that purpose recommends his own book Reaching the Heights: Thumb Position on the Double Bass (2018), a succinct and practical guide. Likewise, I observe the precautionary principle, and my students follow well-defined stages of development, the first of which includes targeted technical exercises and etudes, and mastering other, less demanding, Baroque and contrapuntal works, like the sonatas by Vivaldi and Pergolesi, and the charming Fantasia for unaccompanied double bass by Henry Eccles (whose Sonata in G minor was immortalised in its double bass version by Gary Karr).
During the second stage, I carefully introduce Bach's music via the Viola da Gamba Sonatas BWV1027–9 and other well-known transcriptions, including the poignant Arioso from the cantata 'Ich steh mit einem Fuss im Grabe' BWV156. Viola da Gamba Sonata no.2 is especially popular with double bassists and was for a time a favourite opening piece in my own recital programmes. Dan Styffe, principal bassist of the Oslo Philharmonic and professor at the Norwegian Academy of Music, considers it to be 'a nice way into Bach's music', and normally starts his students on this sonata before they are allowed to progress to the suites.
This article was published in the September 2020 Nicola Benedetti issue

The British violinist on launching her mass education project for string players of all ages. Explore all the articles in this issue.

More from this issue…