Double bass maker Mitch Moehring reads Arnold Schnitzer's book for players on looking after their instrument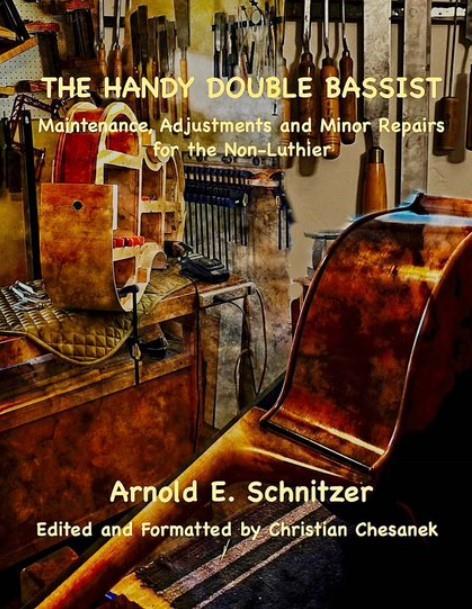 The Handy Double Bassist: Maintenance, adjustments and minor repairs for the non-luthier
Arnold Schnitzer
106PP ISBN 9798218070984
ARNOLD SCHNITZER $35
How many times has a musician opened their case to find an instrument is not in proper working order? Hours before the concert or rehearsal with all luthier shops too far away or closed for the weekend? Finally the industry has a bold book dedicated to assisting bass players in maintaining their instruments and helping them cope when emergency situations arise.
As the sub-title of The Handy Double Bassist attests, this is a book for non-luthiers. It is not intended as a book teaching professional steps in bass making or high-level restoration; however, the seasoned luthier can certainly learn techniques and approaches from its pages.
The author is an award-winning double bass maker based in New Mexico, US. He has been a regular instructor for the VSA/Oberlin bass workshops, and has taught and mentored many members of today's bass making community. He is a patient and highly knowledgeable teacher in our field and this book is presented with the same level of care.
The book's format is perfect for its intended use and audience. Its high-quality images of instruments, repair demonstrations, tools and sketches allow the reader to see clearly what the author describes in the text. Throughout the handbook, the reader is given multiple designated pages to make notes about their personal instrument. This is helpful as the standard measurements for double basses are often all over the place.
The introduction begins with a list of tools needed. Schnitzer later gives instructions on where to purchase some of the luthier-specific items. Throughout the book he gives informed tips on bridge adjustment, buzzes and rattles, minor cracks, emergency repairs and much more.
My favourite chapter addresses the issues in maintaining a consistent humidity level. Humidity can be a serious concern for cracks, buzzes and the playability of any wooden musical instrument. The double bass, with its long and wide plates of tonewood is exceptionally notorious for expensive crack repairs due to humidity. Schnitzer gives the reader tips for keeping basses at a consistent humidity level and avoiding many unnecessary repair bills.
The book is an easy read and addresses the player, student, parent or teacher at their level of non-luthier vocabulary and understanding. As the book progresses, the author continues to build on lessons learnt in previous chapters. The book can be read from start to finish as a textbook, or easily referred to for specific emergency repairs. I feel that it belongs in every double bassist's home, somewhere between their book collection and toolbox.
MITCH MOEHRING