The Baroque-era composer created many melodies infused with the Scottish folk characteristics of his upbringing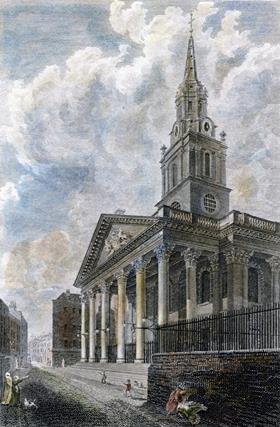 Photo: Kevin Macdonald
FIGURE 3 St Martin's Churchyard (walled area to the right) and St Martin's Lane, before the building of Trafalgar Square in the 1820s and other clearances (c.1810 engraving by T. Bonner after J.B. Thompson)
The following extract is from The Strad's November 2021 issue feature 'When Worlds Collide: Scottish Folk Baroque Fusion'. To read it in full, click here to subscribe and login. The November 2021 digital magazine and print edition are on sale now
In history, one sometimes encounters individuals whose lives seem so improbable that they seem better suited to a novel, and Oswald is such a man. Born in 1710 in Crail, Fife, the son of the town drummer, he spent his young adulthood in Dunfermline and Edinburgh as a cellist, dancing master and popular composer, with some of his tunes being presented to the public under the Italian pseudonyms 'Dottel Figlio' and 'David Rizzio' (the latter the name of a legendary Tudor-era Italian musician of the Scottish court). In 1741 Oswald shifted his activities to London, opening a music shop and becoming a successful music publisher. Soon after, he became the focal point of the Temple of Apollo (1740s–1750s), a small musical consortium that provided scores and songs for the London stage, among other activities. In 1761, now a minor London celebrity, he was appointed chamber composer to George III. The following year he married Leonora Robinson Lytton and became in effect the master of Knebworth House, Hertfordshire, where he died a wealthy man in 1769. This is a thumbnail sketch of his life, but his musical accomplishments are similarly incredible.
Shortly after arriving in London, Oswald began an association with the pioneering musicologist Charles Burney, who described Oswald's shop 'on the pavement of St Martin's church-yard' as a gathering place of composers, writers and music lovers (figure 3). Oswald was to write a moving and evocative solo fiddle sonata about this melancholy viewpoint, simply called St Martin's Church Yd and published in his Caledonian Pocket Companion, Book III (1748). Burney and Oswald were central to the Temple of Apollo, whose works Oswald published. Contemporary memoirists such as Burney and his novelist daughter Fanny would claim that this 'pretended society' was a promotional cover only for Oswald's own works and those he commissioned from Burney (see Roger Lonsdale, Dr Charles Burney: A Literary Biography, 1965). Others, such as Purser, view it as an Oswald-led corporation of expatriate Scottish musicians then in London, including John Reid and Thomas Erskine (sixth Earl of Kelly). Its nature may have changed over time.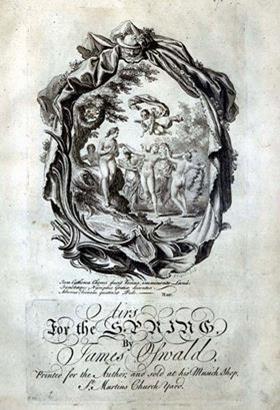 Although relocated to London, Oswald was the most dynamic Scottish composer of his era. In addition to several substantial collections of Scottish songs and variation sets, he created 'traditional' and popular melodies himself. His works include a 1740 trio sonata with each movement based on a different Scots tune, socially satirical cantatas (for example, The Dust Cart), songs and music for the stage, and a set of 12 Serenatas (trio sonatas) published during his employment at the royal court.
However, Oswald's most monumental works are his two sets (1755 and 1761) of Airs for the Seasons, a total of 96 sonatas (48 to a set) grouped by season, each devoted to a different flower, shrub or tree (figure 4). Although the whole was intended for solo violin with figured bass, the first set had an optional second violin/flute part available as a supplement. These works are perfect, individual, single-page miniatures, each with two to four Italianate movements. Thematically, many feature pastoral Scottish melodies and jigs. More generally, however, they are impressionistic fusions of Scots and galant chamber music. Purser attributed background logics to these pieces, whether botanical features or physical and cultural associations: 'The Narcissus' (echoes), 'The Nightshade' (aka belladonna – prostitution and sailors), 'The Sneez-wort' (anticipatory and violent sneezing episodes) and 'The Marvel of Peru' (three flowers of different colours with three sharply contrasting movements: Scortese, Comic and Musette), and so on. It is unclear whether they can all be so interpreted; Johnson was sceptical, but all these ideas provide food for thought. A favourite of mine is 'The Lilac' (from the second set) – a plant reputedly of astringent and fever-reducing medicinal properties. Oswald provides an uncanny Tartini pastiche in the Languido first movement (a delirious fever), followed by a rapid crisis in third position (Brilliante), all resolved with a Giga of recovery.
Oswald is credited with inventing so many melodies that are now considered 'traditional' that one may be forgiven for wondering whether some of his tunes were already in the folk ether before he wrote them down. One example is the March from his Air for the Seasons (Set 1) sonata 'The Tulip' (figure 5). Its publication in 1755 is the first record of this melody, and in 1757 Oswald set the tune to words by Tobias Smollett as 'Ballance a Straw', a song performed in Smollett's farce The Reprisal at the Theatre Royal, Drury Lane. Yet in 1770 Balance a Straw appears in a Lincolnshire country dance manuscript as a traditional melody. In 1798 the march morphs into the Irish nationalist ballad The Wearing of the Green, and subsequently provides the tune for the popular American Civil War-era song The Captain with His Whiskers. Oswald was at the back of several such traditional melodies and many tuneful mysteries still await resolution.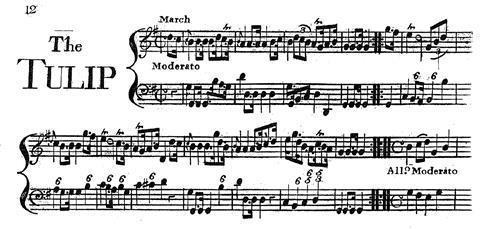 Read: Scottish folk baroque fusion: When worlds collide
Read: Sentimental Work: Tim Kliphuis
Watch: Kristan Harvey & Nicola Benedetti - Leaving Lerwick Harbour
Watch: Violinist Patricia Kopatchinskaja and Fazil Say perform Bartok: Three Romanian Folk Dances