In an article from June 1939, the great cellist gave a first-hand account of his flight from Russia into Poland.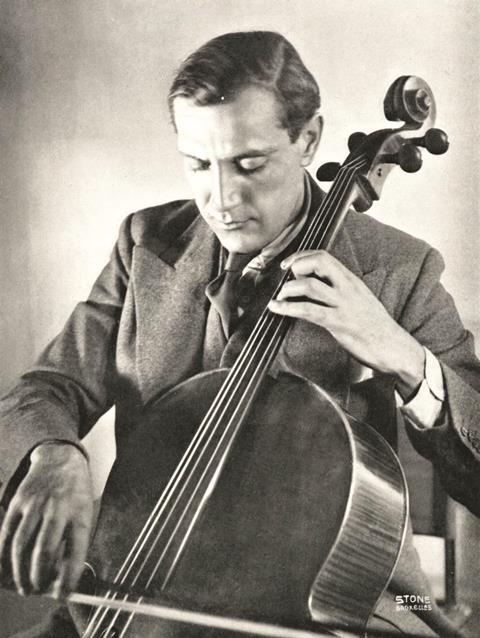 In recent years young Russian musicians have been much to the fore and the phenomenal success of their team of violinists on the occasion of the first of the Concours Eugene Ysaye, held at Brussels, created a stir in musical circles. Talented young artists certainly seem to be well cared for by the present regime, but in the troubled early days following the Russian Revolution the lot of a musician who had held an official appointment under the Tzarist Government was by no means an enviable one. Gregor Piatigorsky, the eminent Russian violoncellist, was only a boy at the time of the Revolution, but was already the first 'cellist in the orchestra of the Imperial Opera at Moscow. A few years back, when on his first visit to London, the Daily Telegraph printed an account in his own words of his escape of the frontier into Poland. Although Piatigorsky very nearly lost his life in this adventure the incident was not without its humorous side. It will be noticed that at that time Piatigorsky's command of English was not so good as it is to-day, but we feel his original version should be spared the hand of an arranger: "When the Bolshevik Revolution breaks out I am a boy; everyone is running away, so I take my 'cello and with musical companions we go to the frontier in a cow's railway carriage. On the way we perform for the Red soldiers. We have a hall, packed with soldiers, no room left. We play for them – beautiful Debussy, thing like that. At the end only two of the audience remains. I do not think they understand Debussy." The fugitives reached a village on the Polish border, closely watched by Red Guards. To resume in Piatigorsky's own words: "On night we go across the border. I carry my 'cello over my shoulder. Suddenly bang-bang-bang! Two soldiers shoot to us. My health remains goods, but my poor 'cello – finished." "Did the shots hit it?" he was asked. "No, no. There is with us a lady opera singer. She is very awfully fat. As she hears the bangs she jumps up on my shoulders and puts her big arms around my neck… my 'cello is no more."
On reaching Warsaw Piatigorsky's position was no better than the other refugees who crowded the Polish capital. He had no money to pay for decent lodgings and had to be content with a room "full of animals, little animals with wings," to quote his own description.
At last in desperation Piatigorsky "gate-crashed" into one of Warsaw's best hotels. After some understandable difficulty in getting past the door-man – Piatigorsky, it should be added, is a very big man and at that time was ill clad and unshaven and must have looked a rather disreputable individual – he managed to reach the lounge where an orchestra was playing. Pushing the 'cellist aside he started to play. The audience, thinking the whole affair had been prearranged for their entertainment, gave him a rousing reception and from then on he seems to have gained a footing in Warsaw's musical life.
In 1922 he moved to Berlin where he won a competition for the position of first 'cellist of the Berlin Philharmonic Orchestra under Wilhelm Furtwangler. Here he remained until 1929. Since then he has played extensively throughout Europe and has made several coast to coast tours of the United States, with appearances as soloist with the Boston, Philadelphia, Chicago, Detroit, Los Angeles, San Francisco, Cleveland and New York Philharmonic-Symphony Orchestras. His visits to America have been a series of personal and musical triumphs, indeed possibly more than any 'cellist in recent years he has made America 'cello-conscious and has created an ever- growing audience for the instrument.
Of this artist's early years there is little to be said. He was born on April 20th, 1903, at Jekaterinoslaw, Russia. As a child he played on two sticks, one big and one small, pretending it was a 'cello, and it was not until his seventh birthday that he had a real 'cello, which was given to him by his father. He was educated at the Moscow Conservatory where studied under von Glehn. So rapid was his progress that he toured Russia as an infant prodigy at the age of nine and when fifteen was appointed first 'cellist of the Imperial opera Orchestra at Moscow.
The period from the disbanding of the Imperial Opera to his appointment in the Berlin Philharmonic was filled with adventures in Poland. He spent seven years with this famous orchestra during which time he had played as soloist with the Gewandhaus, the Concertgebouw and the Dresden Orchestras.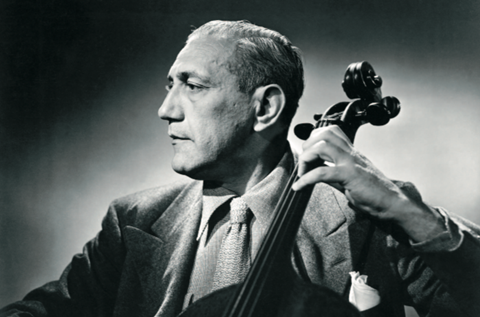 Piatigorsky's repertoire is very extensive and includes both the classical and modern masterpieces for the 'cello. He has been instrumental in giving the first performance of a number of important works, including the first performance in England of Schostakowitsch's Sonata and Castelnuovo- Tedesco's Toccata. Among the interesting works which have figured in his recent recital programmes have been the Debussy Sonata, the Gere Suite for 'cello along and the Strauss Sonata. His performance of the difficult 'cello solo in Strauss'"Don Quixote" when the composer conducted this work at Frankfurt in 1931, resulted in Piatigorsky receiving a letter from Richard Strauss of which the following is a translation, "I thank you from the bottom of my heart for your wonderful Don Quixote, technically, musically and interpretatively a model. I wish for the sake of all that you could play it in every place where the work is performed under a good conductor."
Piatigorsky is frequently complimented by the critics on his programme building which has been described as "Different, exciting and satisfying." The two following programmes are typical examples:-
First programme
Sonata in D minor – Andrea Caporale
Sonata in E minor – Brahms (for piano and 'cello)
Sonatine – Weber
Intermission
"Pulcinella" Suite on themes by Pergolesi – Stravinsky
Melodie – Debussy
Habanera – Ravel
Intermezzo (from "Goyescas") – Granados
Zapateado – Sarasate
Second Programme
Toccata – Frescobaldi
Variations on a Theme of Handel – Beethoven
Sonata in A major – Boccherini
Suite in C major (for 'cello alone) – Bach
Intermission
Prayer – Bloch
Rhapsodia Italiana – Mainardi
Lamento – Faure
Flight of the Bumble Bee – Rimsky-Korsakoff
Melodie Arabe – Glazounow
Tarantella – Moszkowski
Unfortunately for 'cello lovers in this country Piatigorsky is a very infrequent visitor. His first visit to London was at the end of 1935, when he gave a series of three recitals at the Grotrian Hall, which was filled to capacity on each occasion. His fame had preceded him through his recordings for His Master's Voice. His records of the Schumann violoncello Concerto in A minor with John Barbirolli and the London Philharmonic Orchestra will be found in the Connoisseurs' Section of this company's catalogue.
'Cellists are also indebted to him for a number of arrangements of the classics.
From the June 1939 issue. Click here to subscribe