This summer, Dubai played host to the InClassica International Music Festival and Middle East Classical Music Academy. Charlotte Smith braved soaring temperatures and an array of Covid travel regulations to witness performances by some of the world's leading string players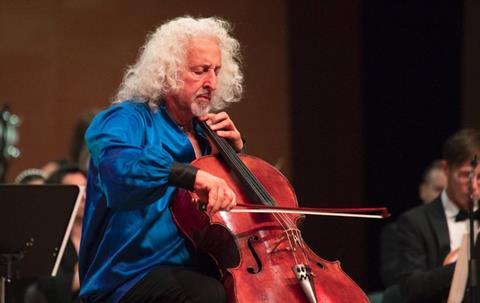 During the darkest days of lockdown, I often imagined myself listening to live music in beautiful and exotic surroundings. But although locations in Europe, America and Asia figured frequently in these wistful daydreams, the United Arab Emirates was not a country that ever came to mind. Here my imagination failed me, as this year's InClassica International Music Festival and its accompanying Middle East Classical Music Academy proved in spades. Set among the towering skyscrapers of Dubai's city centre, InClassica brought a legion of top soloists to perform at 'the Middle East's largest and most ambitious classical music festival'. And neither the baking 44C heat nor the myriad PCR tests, locator forms and Covid app downloads required for international travel could put off the enthusiastic soloists, orchestras, students and audiences who came to celebrate the return of live performing.
Launched by the European Foundation for Support of Culture, which for the past ten years has run the annual Malta International Music Festival, this year's inaugural InClassica event ran from 28 August to 26 September and featured such world-class soloists as violinists Maxim Vengerov and Gil Shaham, cellists Mischa Maisky and Steven Isserlis, soprano Danielle de Niese and tenor Joseph Calleja – not to mention orchestras from Armenia, Israel, Malta, Germany, Russia and Slovenia.
A total of 30 star performances took place in the evenings at Dubai Opera and the Coca-Cola Arena – unmistakable for the huge neon 'Coca-Cola' sign emblazoned on its front – while afternoon concerts by young and established artists and Classical Music Academy students were staged in the Music Hall of the Palm Islands' luxurious Jumeirah Zabeel Saray Hotel. Students also took part in violin, piano and wind masterclasses at the hotel each morning from 4 to 23 September, with tutors including such familiar names as Boris Kuschnir, Daniel Hope, Sergey Khachatryan and Pavel Vernikov.
On the evening of my arrival on 12 September, Steven Isserlis performed two works with the Jerusalem Symphony Orchestra conducted by Sergey Smbatyan – the Cello Concerto 'Musical Pilgrimage' by composer-in-residence Alexey Shor and Haydn's sparkling and joyful Cello Concerto in C major. Shor is an interesting composer, resolutely going against the grain with an immediately recognisable 'faux 18th-century style' – as Isserlis characterised his works to me in a discussion earlier in the day. Throughout the festival I heard several of his compositions in evening and afternoon concerts – all featuring sections of expressive beauty bookended by passages of fierce technical difficulty, as confirmed by Isserlis: 'Alexey writes very lyrically for the cello, but the concerto is also quite difficult. It leaps around the instrument and doesn't lie easily under the fingers.'
This was an observation borne out by the evening performance. Yet all technical difficulties – mainly consisting of fast spiccato passages at the upper end of the fingerboard – were carried off with a flourish and a smile by Isserlis, and the middle movement included achingly lovely passages. In the Haydn that followed, Isserlis found his happy place, playing with barely contained glee in the first movement's light, dancing passages, and as quietly and delicately as he dared in the slightly dull arena acoustic during the second. The third movement was taken at a cracking pace, and if the orchestra lagged ever so slightly behind, Isserlis urged them on to a thrilling finale.
Top-rate cello playing was to characterise my stay, as witnessed in a passionate Dvořák Cello Concerto performance by Gary Hoffman and the Malta Philharmonic Orchestra (MPO), conducted by Dmitry Yablonsky two days later. Silky smooth bow changes and a generous vibrato made for an intoxicating solo line with an impressive range of dynamic and character. Hoffman's encore, too – the Sarabande from Bach's Third Cello Suite – was delivered with beautiful simplicity. That evening's particularly attractive programme also featured Beethoven's Fifth Piano Concerto, performed with clarity and precision by German soloist Severin von Eckardstein.
The third major cello appearance of my stay came from Mischa Maisky, who on 16 September performed two works by Tchaikovsky, with the MPO this time conducted by Sergey Smbatyan. The composer's Nocturne for cello and orchestra was not a performance for the faint-hearted, Maisky punctuating the beginning of phrases with sometimes violent accents, and then dropping to such softness that one could hear a pin drop – were it not for the constant whoosh of the arena's air conditioning.
Always a player of great variety, Maisky was equally mercurial in the Rococo Variations, with moods that could turn on a dime. The performance was far from technically perfect, but neither was it safe and boring – at times he seemed to be viciously attacking his cello and at others caressing it with a feather touch. And this emotional range extended to two encores, enthusiastically welcomed by the adoring audience – Lensky's aria 'Kuda, kuda, vi udalilis' from Eugene Onegin and the Prelude from Bach's First Cello Suite, performed swiftly like running water.
Of the daytime performers, for me the standout star in the making was 16-year-old Danish violinist Sofia Leifer, a student of Zakhar Bron who on 15 September polished off Shor's exceptionally fiendish 'Phantasms' Violin Concerto with little difficulty, accompanied by the Kaliningrad Symphony Orchestra – and from memory too. Especially impressive was her fluid, relaxed playing in intricate passages at the top of the fingerboard, dispatched with a pure and unfettered tone.
The day beforehand, Russian violinist Andrey Baranov had taken to the same Music Hall stage to perform Shor's 'The Four Seasons of Manhattan' Violin Concerto, again with the Kaliningrad Symphony. This was a stonier interpretation with rather less complexity and nuance, but nevertheless impressively big-toned and sure-footed. Afterwards there were two opportunities to hear student violinists from the Academy perform a movement from one of the big Romantic concertos – Japanese 22-year-old Taichi Miyamoto in Tchaikovsky and 21-year-old Italian Simone Spadino Pippa in Mendelssohn. Both demonstrated much promise and clearly appreciated the chance to perform with a full symphony orchestra for a supportive audience.
And so my time in Dubai came to an end in another flurry of tests, locator app updates and certificate downloads. Such bureaucracy was surely worth it, though, to be treated to an abundance of fantastic music making by such characterful artists. I have it on good authority that InClassica will return to Dubai in 2022 – and long may it continue to bring classical music to the Middle East.
Read: A story's end: Postcard from Mondsee
Read: Back to business: Postcard from Sun Valley
Read: My Heroes: Mischa Maisky on Mstislav Rostropovich and Gregor Piatigorsky
This article was published in the December 2021 'Double Basses of Venice' issue

The north Italian city-state produced some of the country's finest instruments . Explore all the articles in this issue

More from this issue…