At the Montreal International Musical Competition, Tom Stewart heard a winning performance full of fire among a seriously impressive field of contestants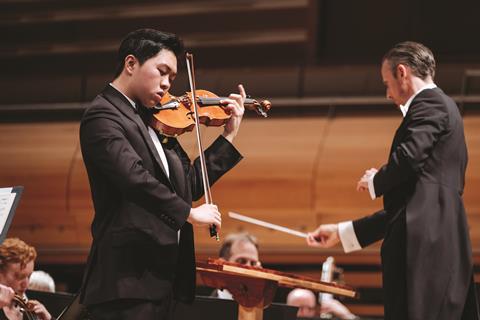 Hao Zhou sizzled in Shostakovich's Violin Concerto no.1 © Tam Lan Truong
In an accident of the calendar, summer 2019 has seen the Tchaikovsky, Queen Elisabeth, Sendai and Montreal competitions taking place within days of each other and on three different continents. This faced many would-be contestants with a difficult choice – which one would be the best for them? 'Every contest is different,' says French violinist and Montreal jury member Pierre Amoyal. 'In its spirit and the broad repertoire choice it offers the players, the Montreal International Musical Competition reflects perfectly the openness of the Canadian people.'
Alongside Amoyal, the jury comprised Kim Kashkashian, Boris Kuschnir, Cho-Liang Lin, Mihaela Martin, Barry Shiffman, Dmitry Sitkovetsky, Pavel Vernikov and non-voting chairman Zarin Mehta, a former president of the New York Philharmonic. Listening to the penultimate and final rounds, it was clear there had been no shortage of imaginative applicants for them to choose from.
Twelve semi-finalists gave twelve insightful and intelligent hour-long recitals at the city's Bourgie Hall, a converted church whose windows of Tiffany stained glass surrounded them with lustrous pastel light. What marked out the six chosen to compete in the final? 'They knew what they wanted to do and they also knew how to achieve it,' Amoyal says. 'On the other hand, someone who didn't get through tried to show us he could play absolutely anything. It made us doubt whether he had any space left in his brain for the concerto.' He laughs: 'We're not looking for Superman or Superwoman.'
The first finalist to take to the stage at the city's Maison symphonique alongside the Orchestre symphonique de Montréal and British conductor Alexander Shelley was US 18-year-old Elli Choi. The youngest finalist, Choi also made the most daring choice of concerto – Bartók's thorny Second – but here the warmth and suppleness we heard in her semi-final performances of Schubert and Fauré were replaced by a colourless tone at odds with the composer's vivid writing. A little lost beneath the waves of the orchestra, Choi was unable to stitch together a convincing whole from the concerto's multifarious components, and although suave and glossy multiple-stops, as well as very even passagework were clear evidence of thorough preparation, this was a bet on Bartók that, in the end, backfired.
Whereas Choi occasionally sounded under siege, South-Korean–American Christine Lim, 24, began her performance of the Sibelius Concerto by pushing hard against the murmuring orchestral strings. Together with an almost aloof sul tasto sound, this brought an unfamiliar tension to the opening and set the scene for a high-class Nordic noir interpretation. It wasn't before the finale, however, that Lim really got into the swing of things. Stock still until now, she met the movement's dance-like figures and a melody played in artificial harmonics with balletic movements of her own. It was a performance that built intensity gradually, despite a handful of missed notes and a couple of minor stumbles during the busiest passages.
22-year-old American Hao Zhou's account of Shostakovich's Violin Concerto no.1 made for a sizzling end to the first night of the final round. His focused tone in the first movement sounded monochrome by design, not by accident, and was a perfect match for the composer's uneasy restraint. All that changed in the Scherzo, where Zhou used the heel of his bow to create a viola sourness on his G and D strings that, even in the choppiest passagework, sailed above the sound of the orchestra. An extensive and extraordinarily resonant cadenza showed off his ability to develop repeated fragments of material into a long, compelling line, and he burned through the finale with playing as infernal as it was precise.
South-Korean–American Anna Lee, 24, began the following evening with Prokofiev's Second Violin Concerto. Although there was more complexity to her tone than we had heard in the previous night's curtain raiser, Lee's sound was small, metallic and without the puckishness that separates a wry performance from a dry one. But as her bow strokes became gradually longer, she made a touching account of the first movement's more lyrical moments. There was a real tenderness to her playing in the aria-like Andante assai, where at first only a ponderous clarinet gives the neo-classical game away. Tricky passagework had sounded somewhat arduous under Lee's fingers in the first movement, but they seemed to have warmed up by the finale, where she brought more character to the figuration and with it the whole performance.
Next, Japanese–German Fumika Mohri, 25, gave a rendition of the Sibelius concerto which, compared with the night before, was more midnight sun than Arctic winter. High on her G string her tone was bright and full of energy, while her cadenza was a study in exactness and vivacious spiccato. Beautiful detaché bowing in the slow movement lent its melodies a poetic insistence that was mirrored in her simple, song-like take on its moments of double-stopped counterpoint. She launched into the finale with a ferocity not easily sustained for a full seven minutes, but although the first movement had perhaps lost some momentum, here she sprinted tirelessly over the finish line.
Johanna Pichlmair was the last of the six finalists to perform. The 29-year-old Austrian gave an account of the Brahms Concerto that was undeniably accomplished if perhaps lacking a little in exuberance or originality. Pichlmair set herself apart from the others, however, with organic, effortless ensemble playing and an impressive rapport with orchestra and conductor – no mean feat in the 50 minutes each candidate was allocated for their rehearsal. The concerto appeared to present no technical challenges for Pichlmair, whose stentorian playing placed her performance squarely in the big-boned Brahmsian tradition.
Despite the formidable soloists who had followed it, the smoke from Zhou's firecracker Shostakovich still hung in the air from the night before and it came as no surprise that the jury named him the overall winner. Receiving a cash prize of CA$30,000, a $50,000 career development grant and a new violin and bow by the competition's makers' forum, Zhou will also take up a residency at Canada's Banff Centre and next year will perform at the New Generation Festival in Florence, Italy.
Pichlmair's safe and secure Brahms won her the $15,000 second prize, while Mohri came third, taking home $10,000. As winner of the prizes for the best performance of a work by Bach and the best account of the semi-final's compulsory work, Stand Alone, by young Canadian composer Michael Oesterle, Pichlmair received another $1,500 and $2,000 respectively. Lee won the $2,500 award for the competition's best sonata performance, and the unranked finalists each took home $3,000. Clearly dazzled by the talent before them, a sizeable portion of the audience had got to their feet to applaud after each competitor's performance. However, there could only be one winner of the audience prize, and it appeared they too had found Zhou's charisma irresistible, and awarded him the additional $5,000 by popular vote.