Early music expert Simon Standage discusses historically informed performance, interpretation and balancing violin and harpsichord in Bach's Violin Sonata in E major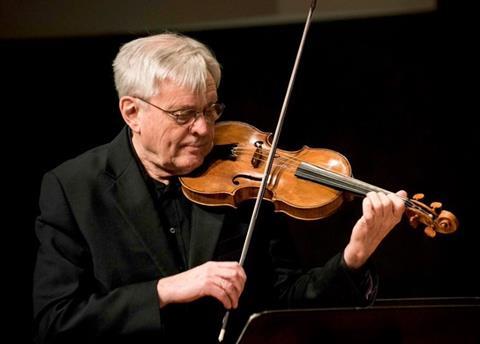 The following is an extract from Simon Standage's Masterclass article on Bach's E major Violin Sonata in The Strad's February issue. To read in full, click here to subscribe and login. The February 2021 digital magazine and print edition are on sale now.
Balancing a harpsichord with a fiddle can require a stretch of the imagination. The harpsichord is an instrument incapable of sustained sound or vibrato, which makes it necessary for the violin to use an articulated style and plainer tone so that the two can engage in conversation on equal terms. Of course, keyboard instruments can vary tremendously in strength and character, so you may have to adjust differently on different occasions, particularly if you find yourself playing with a colossal thing with a 16-foot stop!
In the first movement of the E major Sonata, the fiddle doesn't have to make any concessions, thanks to the harpsichord's heavy left-hand octaves, thick chords and upper parts that often rise above the violin line. In that respect, the scoring of this movement is unlike any other in the set. The parts are so independent that they have little to do with each other, although they do have to fit together like clockwork, particularly in the penultimate bar. Consequently the keyboard is in no danger of being overwhelmed. If anything, the violin can give more in places like bar 25, where the low notes might otherwise not carry, especially in a larger hall. It's important that not one note is wasted!
Read: Baroque set-up is of secondary importance for getting results in Bach - violinist Christian Tetzlaff
Read: Baroque violin: How to get the most out of a bow stroke
Using a Baroque bow can make it far easier for the violin to match the style of the harpsichord. I think that players returned to period instruments in the 1960s mostly to simplify matters. It is easier to avoid making errors of judgement in this type of music when using a shorter, period bow with half the amount of hair than it is when using a long, over-haired modern alternative. In movements where the harpsichord and the violin share material on equal terms, a modern violinist has to work far harder to approximate the sound of the harpsichord.
This article was published in the February 2021 Modigliani Quartet issue

The French ensemble on directing festivals, the challenges of performing Schubert and the benefits of collaboration. Explore all the articles in this issue .Explore all the articles in this issue

More from this issue…