The Strad's editor Charlotte Smith introduces the August 2020 issue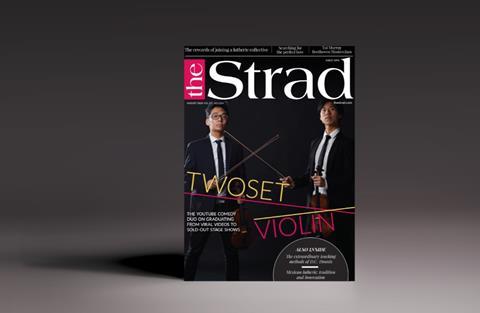 The internet is a marvellous place. Even as concert halls remain silent, artists have put their skills to good use in myriad lockdown performances and live streams, as well as in motivational practice videos to share with their peers. In these dark times, the comedy video stylings of TwoSet Violin shine especially brightly. In a few short years, Australians Brett Yang and Eddy Chen have seen their online profile grow exponentially, and won fans worldwide with their insider's take on the life of a string player. Not for them the polished facade of the hip music video, but rather a witty and down-to-earth commentary on the struggles and failures, the hard work and competition and, ultimately, the joy and fulfilment of being a musician. On page 20, the violinists speak to Kimon Daltas about building a digital following in the millions, collaborating with the likes of Hilary Hahn and their recent graduation to live, sold-out shows around the globe.
A running theme in TwoSet skits is the vital importance of practice. For Metropolitan Opera concertmaster Benjamin Bowman, owning the right equipment – and especially the right bow – is equally significant for musical development: 'But truly, if your bow is warped and the hair is old and grimy, aren't you putting yourself at a disadvantage?' On page 34, Bowman charts his own career through bows by Peccatte, Sartory, Henry, Knopf and Tourte, and offers tips for readers on selection and investment.
Also in this issue, Peter Somerford investigates the benefits of joining a lutherie collective (page 28). Such organisations can provide strength in numbers by pooling financial resources and knowledge, sharing workshop and exhibition space, and offering wider promotional opportunities for their members. As Covid-19 continues to distance us physically, such chances for collaboration and sharing can only be a good thing.
Charlotte Smith editor
Email me at thestrad@thestrad.com or tweet @TheStradMag