The violinist and friend of the Endellion pays tribute to the quartet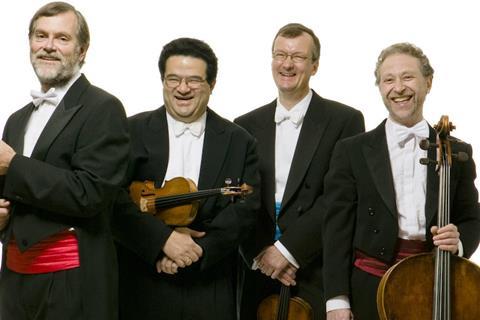 The toll of abandoned concerts has been heavy in 2020/1. Some cancelled concerts have been re-scheduled, some put online, some ditched and lost for ever. But for the many ardent devotees of the ESQ, there will have been no more poignant loss than that of the quartet's final concert after more than 40 years playing together. It was scheduled to take place at Castle Howard on 23 July 23 2020 as part of the Ryedale Festival, with a farewell Wigmore the previous week. But in the context of a pandemic that never seems to end, the quartet have decided to call it a day, and their 'final' concert turns out to have been a recital at the Sage in Gateshead. At the time no one in the audience or on the stage had any idea that a significant landmark had been reached.
For me, and I believe for many others, each and every Endellion concert was a special, treasured occasion and stayed reverberating around the psyche for many days after the performance. For example, I probably heard them play 'Death and the Maiden' ten times, but I never once had the feeling that I knew what to expect. Their playing had a living on the edge feeling about it that meant that as audience members we were never complacent or over-comfortable.
Perhaps no surprise then that recording was not their favourite activity in the world although, thank goodness, there are actually some wonderful recordings, not least the entirety of Beethoven string quartets. But their live performances never felt like another version of the recording. There was a miraculous balance between the feeling that the music was somehow playing itself without egos getting in the way, and an awareness of four individual characters on stage giving everything they'd got.
And four such different characters! If I had met them individually, (as indeed I often did) without knowing that they had been a quartet for so many years, I would never have placed them together in my mind. They have very different approaches to life, to teaching, to music. And yet! Unusually for a string quartet, where tensions and conflicts are famously common due to the sometimes almost unnatural closeness of the players, the ESQ have stayed in their original formation for 40 years! (Apart from the second violin. The third incumbent served a mere 34 years!)
Read: The Endellion Quartet is disbanding
Read: Endellion String Quartet set to retire
One of the reasons for this might be that they all pursued other aspects of music alongside the quartet: as soloists, playing in other chamber music groups, playing in, leading and directing orchestras, coaching chamber music and teaching, and freelancing in the session world. But I think it's safe to say that the quartet has formed the core of musical life for all four players. Perhaps some of the secret of their strength together has been the very diversity of their characters and outlooks. The fact that they played bridge before and in the intervals of concerts is well known and also points to a degree of comfortable ease and mutual appreciation between them rare in groups whose members saw such a lot of each other.
As a violinist myself, I've been hugely influenced by the ESQ since I was a teenager, as I know many of my peers have. To understand why this might be we should perhaps ask the very basic question, 'does anyone play Haydn and Beethoven more "naturally" than them?' - with such a fine balance between expressive freedom and the natural (but often overlooked) restraints imposed by the rhythm and structure of a piece. It never seemed as if sumptuous beauty of tone was an end in itself, and yet the beauty of their sound could be breath-taking, with a vulnerability, sometimes even frailty, at the heart of it which mirrored the very qualities that are essential in Beethoven, especially in the later quartets. I know this quartet very well, and yet I have never stopped being amazed by the fact that each concert always appears to have conveyed to me even more about the essence of life and music than the last.
When I visited the quartet backstage after a concert, I was often affected by quite how loved they were. Queues composed of ecstatic, often knowledgeable, frequently life-long fans wanting to show their gratitude to all the players. I joined the queues, and sometimes didn't get to the front before deciding it was time to go home. Despite this deep level of appreciation, the ESQ gave off a sense of genuine modesty, almost the feeling that its members really didn't realise how special their group had become. Given this endearing and distinctive characteristic, is it perhaps not such a terrible thing that their final concert wasn't the planned finale? That would have been cause for both celebration and mourning, but instead the quartet just slipped away …
Without ceremony maybe, but no doubt leaving their listeners as ever with the feeling that they had experienced music making with the potential to open their ears and perhaps even change their lives.