Rebeca Nuez Suarez reflects on the application of Bach's Solo Violin Sonatas and Partitas in the technical and musical development of young performers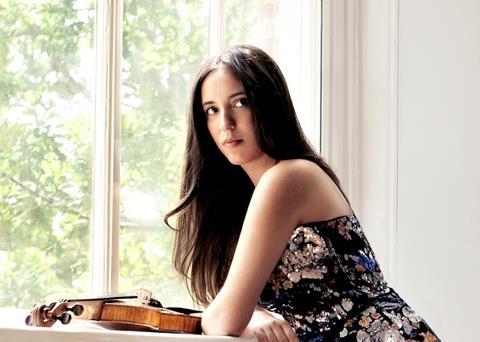 Discover more Featured Stories like this in The Strad Playing Hub
The unaccompanied Violin Sonatas and Partitas by Johann Sebastian Bach are an eternal staple in any classical violinist's journey.
The unquestionable beauty and artistry of these works, as well as the high technical and artistic ability required to perform them, has taken the classical community to universally revere these pieces, granting them the firm place and privileged position they occupy within the top of the standard violin repertoire.
Performers and pedagogues alike have praised the virtues of these pieces in strengthening and accompanying the technical and musical development of performers young and old, and practitioners of all levels of experience engage with them the way health aficionados engage with richly nutritious staple foods.
'Johann Sebastian Bach's Sonatas and Partitas for Solo Violin belong undoubtedly to those masterworks of violin literature which every violinist should study thoroughly and come to grips with' — Henryk Szeryng, 1979
Listed below are four areas of development that may particularly benefit from the practising of these works.
1. Intonation
Even though intonation is a very obvious initial aspect to take into consideration when practising anything at all, from Schradieck or scales to concertos and showpieces, Bach's Sonatas and Partitas may appear particularly transparent when it comes to playing in or out of tune, given the clarity and sometimes nakedness of their melodic lines (the Preludio from the third partita in E major, for instance, can be notably challenging in this area).
Additionally, all movements featuring bigger and more complex polyphonic lines offer an invaluable opportunity to work on the specific intonation unique to double stops and chords, essential to the intervals' shine and definition, and to their consequent sound projection.
2. Coordination
One of the main sources of difficulty on the violin comes from its essential nature in combining two hands that perform separate and extremely different tasks, and from the complexity of the individual challenges these two need to manage simultaneously.
These pieces are extraordinarily useful in bolstering left/right hand coordination, as players are presented with an immense variety of string crossings that can only be managed with a fast and responsive, yet smooth and seamless right hand movement, while maintaining a leading, slightly anticipated left hand that deals, as well, with challenges of its own.
3. Strength
Beyond left/right hand coordination and an absolute control of the right hand, the Sonatas and Partitas require a remarkable level of sharpness and articulation on the left hand. Working on any of these movements can be a sensible and relatively natural way of toning the tiny muscles, tendons and joints in our hands, allowing for just the right amount of active static/mobile stretched postures on the left hand without requiring of too many forced or awkward gestures and positions.
Lengthier and more complex movements, like the fugues from each of the three sonatas or the much loved (and feared) Chaconne from the second partita, can be really useful for performers to work on building physical endurance and sustained focus.
4. Musicality
One of the most comprehensively acclaimed characteristics of Bach's work is its perceived expressiveness, and the strong emotional response it appears to elicit in performers and audiences regardless of their level of expertise or familiarity with classical music overall.
Considering the length and structure of the Sonatas and Partitas, giving isolated movements to young performers early on can be an excellent way of facilitating access to emotionally complex music in a very self-contained format. This generates an opportunity for developing players to explore their own musical expressivity and interpretive style within a controlled environment, and to practise the managing of emotional intensity while dealing with (mainly) foundational technical challenges, without the 'disruption' of extreme virtuosic passages.
While virtually all repertoire can be used, one way or another, to hone all of the areas highlighted above, the Sonatas and Partitas by Bach offer a healthy and practical context for young performers to develop both technique and musicality. Violinists of all ages can only benefit from exploring their relationship to Bach's music, in conjunction with etudes, exercises and an appropriate repertoire selection tailored to their ability and learning objectives.
Watch Rebeca Nuez Suarez perform the Allemande from J.S. Bach's Partita for Violin Solo No. 2 in D Minor, BWV 1004 here: