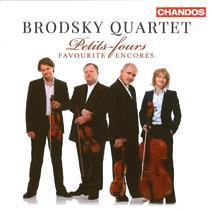 The Strad Issue: January 2012
Description: A birthday cake of a release to celebrate a leading quartet's four decades of playing
Musicians: Brodsky Quartet, Robert Smissen (viola)*† Philip Edward Fisher (piano)†
Composer: Sarasate, Falla, Elgar, Dvorák, Schumann*, Kreisler† , Mendelssohn, Godowsky, Ravel, Prokofiev, Shostakovich & Debussy
To celebrate the Brodsky Quartet's 40th birthday, the players have chosen 21 encores, in their own arrangements, to create a lightweight and often highly innovative release. It reminds you of those small groups that played in fashionable restaurants and cafés before 'piped' music, and the Brodskys take the kinds of liberties and add enough Schmaltz to bring a smile to the listener.
Yet it is not all coffee-shop pastiche, for Ravel would surely have been delighted with their virtuoso adaptation of the 'Blues' from his Violin Sonata, and there is admirable delicacy in their handling of two excerpts from Falla's Seven Popular Spanish Songs. There are very obvious choices, such as Elgar's Chanson de matin and Chanson de nuit, and, with the piano addition of Philip Edward Fisher, Shostakovich's Second Waltz oozes with decadence.
There are moments of brilliance in Sarasate's Zapateado and Elgar's La capricieuse, but this is essentially a disc to soothe our ears, played with plenty of vibrato and portamento. Save for some questionable intonation in Mendelssohn's On Wings of Song, the playing is technically immaculate and polished, and the recorded sound suitably warm and detailed.


DAVID DENTON