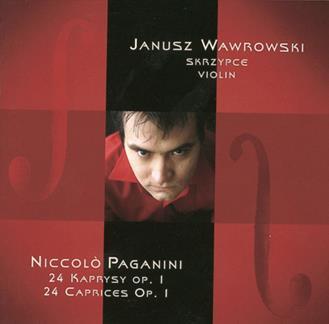 The Strad Issue: January 2008
Musicians: Janusz Wawrowski (violin)
Composer: Paganini
Any violinist who can commit the challenging bravura of Paganini's caprices to CD with substantial accuracy, clarity and technical aplomb is worthy of praise. But Polish violinist Janusz Wawrowski goes one step further, performing these benchmarks for the aspiring virtuoso with the utmost artistry and musical conviction.
A pupil of Miroslaw Lawrynowicz (Warsaw) and, latterly, Yair Kless (Graz), Wawrowski has consistently ear-tickling technical facility, clarity and assurance, especially when demonstrated with such panache. Sample his mastery of the fingered octaves and octave double trills in caprice no.3; the double/multiple stopping in nos.4 and 14; the various elastic bowings in nos.1, 5, 7 and 10; the undulating bowing in no.12; and the irregular accents in no.16. He is equally at home in phrasing an Italianate lyrical melody with disarming charm, as in the expressive Amoroso of no. 21 or the opening Andante of no.11, in teasing out passages of dialogue (nos. 2 and 9), and in adding effective contrasts to repeated passages (no.17, and the ninth variation of no.24).
A few minor cavils notwithstanding – the left-hand tremolandos of no.6 might have been more effectively executed, the climax of no.14 disappoints, and there are a few uncomfortable moments in the sul G episode of no.19 and the sixth variation of no.24 – Wawrowski holds one enthralled throughout some 80 minutes of charismatic virtuoso display. His technical command, true intonation and the flattering ambience of the recording ensure that his gleaming tone is clear, pleasingly credible and free from scratchiness, particularly in passages above the stave.
ROBIN STOWELL