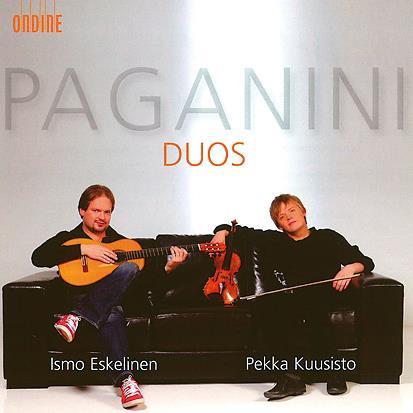 The Strad Issue: January 2010
Musicians: Pekka Kuusisto (violin) Ismo Eskelinen (guitar)
Composer: Paganini
I had never heard these Paganini duos for violin and guitar before, and it came as a surprise to me to read that the composer himself was a fine guitarist. These works are relatively light on the violinistic fireworks associated with Paganini, but are lithe and enchanting salon pieces – though some are loosely titled as sonatas – and are beautifully crafted.
Pekka Kuusisto and Ismo Eskelinen achieve a seductive transparency of texture that emphasises the intimacy of this charming music, with plenty of sensitive give and take in their performance.
In the opening Sonata concertata, from 1804, violin and guitar vie for supremacy but neither quite achieves it until the 'con brio' finale, where Kuusisto get the chance to rattle off some highly charged spiccato runs. Other highlights are the gorgeous romancing of the Cantabile, the effortlessly sweet-singing Sonata in A major and the heroic Tarantella, originally for violin and orchestra: here Kuusisto really shows his violinistic mettle with some impeccable double-stopped spiccato and frenzied, stratospheric twirling.
The recorded sound occasionally feels slightly 'clipped' on the opening Sonata concertata, as if short notes have been made shorter, but otherwise the sound feels bright and true.
Catherine Nelson