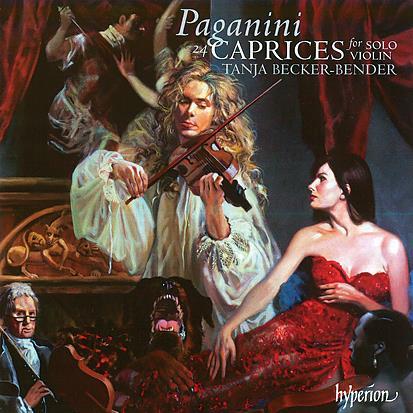 The Strad Issue: January 2009
Musicians: Tanja Becker-Bender (violin)
Composer: Paganini
The young German violinist Tanja Becker-Bender, who has just been touring Britain, thoroughly deserves the chance to record these cornerstones of the repertoire. She is captured quite close-up in a Stuttgart chapel – you hear intakes of breath – and plays a Guarneri 'del Gesù' in modern set-up.
Beck-Bender makes quite a sinewy sound and breezes through most of the technical challenges. She seems to be using a very lively bow which bounces well but to my ears is marginally less effective in louder cantabile passages, where she sometimes sounds as if she is working quite hard.
Scales, arpeggios, thirds, sixths, octaves, spiccato, staccato volante, tremolo, martellato usually draw a fearless response from her. Early on in my listening I note that no.3 is not too overdone and no.4 is very nicely sustained. I write 'intonation?' against very few caprices – nos.2, 12 (which virtually no one manages unscathed), 14 and 15. Perhaps the octaves in no.17 are less good.
My major disappointment is no.24, where her basic tempo is unnecessarily fast, getting her into trouble in one or two variations and spoiling the effect of a great piece. My other criticisms concern interpretation. She misses the effect of horns in no.9 (they are better in no.14) and is better at doom (no.17) than charm or enjoyment (nos.9, 11, 13 and 24).
I am not sure that I shall grow to love Becker-Bender's playing, as I love that of Accardo (DG), Perlman (EMI), Mintz (DG) and Quarta (Chandos). But in her way she is quite formidable.
TULLY POTTER