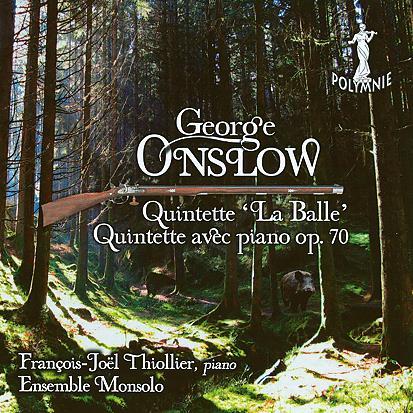 The Strad Issue: January 2010
Musicians: Ensemble Monsolo, François-Joël Thiollier (piano)
Composer: Onslow
Many of Onslow's 34 string quintets allow for an instrumentarium of flexible constitution. Ensemble Monsolo performs his semi-programmatic op.38, subtitled 'The Bullet', in the version for string quartet and double bass. These players convey the drama of Onslow's near-fatal hunting accident with admirable spontaneity in a cornucopia of mesmerising textures, harmonies and timbres. Leader Samika Honda and cellist Nicolas Defranoux steal the limelight in the expressive, melancholy opening movement, which bears no hint of the accident to come, and bassist Rémy Defranoux stands out in the minuet, the painful character of which is realised through dramatic contrasts of harmony and dynamic. The 'movement of convalescence' is quietly and effectively sustained in preparation for the major-mode finale ('recovery'), joyously dispatched.
Pianist François-Joël Thiollier seems undaunted by the intricacies wished upon him in Onslow's Quintet op.70, and his performance is characterised by controlled virtuosity and expressive lyricism. The string players are strongly supportive. Neat, lithe playing in the finale creates an exciting sense of forward movement, but the accounts of the other two movements seem reserved and somewhat stolid and fail to convey all that the music has to offer. The 'boxed-in' nature of the recorded sound does not help the cause.


ROBIN STOWELL