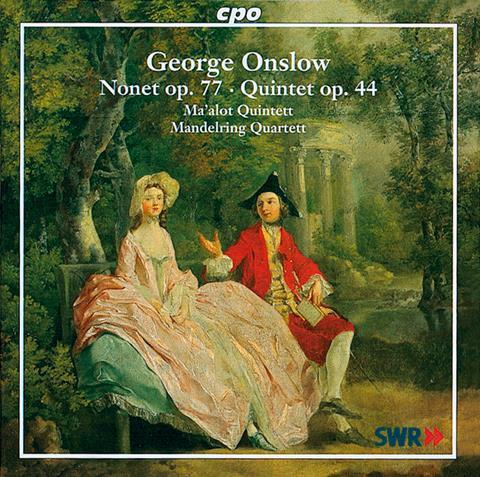 The Strad Issue: January 2006
Musicians: Mandelring-Quartet, Ma'alot-Wind Quintet, Wolfgang-Güttler
Composer: Onslow
French composer George Onslow's chamber works were popular in Germany and Austria in the early 19th century but were considered too erudite and serious for general public consumption in France. His String Quintet in C minor immediately demonstrates that seriousness in its slow introduction's tonality and harmonic tensions. The mood barely brightens in the vigorous Allegro spirituoso. But there are some lighter moments, and the challenging passagework is dispatched with due panache. These players capture the drama of the scherzo-like Minuetto, and violinist Sebastian Schmidt and cellist Bernhard Schmidt excel in the long melodic lines of the trio on its two occurrences. The Andante, complete with thematic recall of material from the Minuetto, is expressively interpreted, and the finale gains impetus from both its agitated, perpetuum mobile character and its bravura passages, which are overcome with incandescent élan. The recording, though clearly detailed, tends to give the string sound a hint of wiriness.
Onslow's Nonet, scored for the same forces as Spohr's parallel work, draws an alluring response from these artists. At the outset one is struck by their excellent internal blending, particularly evident in the first movement's contrasts of extensive tutti–unison passages with chamber music dialogue, and by the sheer spirit and warmth of their music making, as demonstrated in the sparkling Scherzo and lyrical trio. The third movement's variations on a simple melody are splendidly characterised, with Sebastian Schmidt and violist Roland Glassl displaying commendable technical agility, and the finale, introduced by a sombre Largo, has all the requisite verve and spontaneity.
ROBIN STOWELL