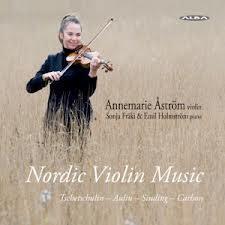 The Strad Issue: January 2013
Description: Illuminating performances of a neglected area of repertoire
Musicians: Annemarie Šström (violin) Sonja Fräki, Emil Holmström (piano)
Composer: Tschetschulin, Aulin, Sinding, Carlson
The young Finnish violinist Annemarie Åström has built up a collection of Scandinavian fiddle pieces, some little-known abroad, some hardly known at home. This disc contains some of these 'hidden pearls' as she calls them. The most familiar works here, in Sweden at least, are Tor Aulin's Four Aquarelles, which between them cover a considerable range of character and colour, shot through with a strain of melancholy. Åström brings emotional agitation to the Idyll and a happy mixture of muscularity and lightness to the energetic final Polska, and gives a particularly fine performance of the Vaggsång – sotto voce, pliant and affecting.
Christian Sinding's Romance in D major is beautiful little piece, which moves from wistful beginnings to become urgent and heated. Åström proves a sensitive guide through its shades of intensity. The Berceuse by Agnes Tschetschulin, virtually unknown anywhere, is a charming, gentle piece, played with effective simplicity.
The most substantial work here is Bengt Carlson's E flat minor Sonata of 1918, a richly chromatic piece within which lurks the spirit of Franck. Åström and Emil Holmström give it a strong, vivid performance, wearing its passionate heart on its sleeve. Now it needs a publisher. The recorded sound is close and clear.
TIM HOMFRAY