The North German Youth Philharmonic Orchestra was commended for its 'willingness to take risks'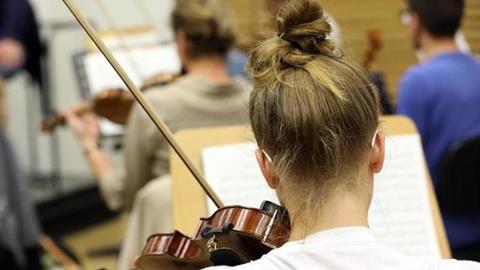 The North German Youth Philharmonic Orchestra (Junge Norddeutsche Philharmonie) has been named as the winner of the 2020 Würth Prize. Administered by Jeunesses Musciales Deutschland, the award is worth €15,000 and has been given to an artist or ensemble every year since 1991.
In its citation, the awards body praised the orchestra's 'unconventional but always authentic projects', as well as 'the unrestrained passion of all participants' and their 'great willingness to take risks'. In particular, it singled out the ensemble's 'Detect Classic Festival', a fusion of classical and electronic music, which took place in 2019 alongside the Festival Mecklenberg-Vorpommern.
Read: Patricia Kopatchinskaja wins Jeunesses Musicales Deutschland's 2019 Würth Prize
Read: Christian Tetzlaff awarded Jeunesses Musicales Deutschland's 2017 Würth Prize
Read: 'Groundbreaking' STEGREIF orchester wins the 2018 Würth Prize
The citation concludes by saying the orchestra 'inspires a new generation of musicians with its self-starting initiative, zest for action and new performance formats, and thus provides the impetus for further developing the classical music "business" responsibly'.
Founded in 2010 as a student project, the North German Youth Philharmonic is made up of classical musicians but also includes jazz and electronic music in its programming. It has also collaborated with the NDR Big Band and artists such as Vilde Frang and Fazil Say.
String players and ensembles who have received the Würth Prize in the past include Christian Tetzlaff, Patricia Kopatchinskaja, Sol Gabetta, the Artemis Quartet, the Stegreif Orchestra, the Vision Quartet, the Deutsche Kammerphilharmonie Bremen, and the education programme of the Berlin Philharmonic