The violin comes from the master luthier's early period and is in excellent condition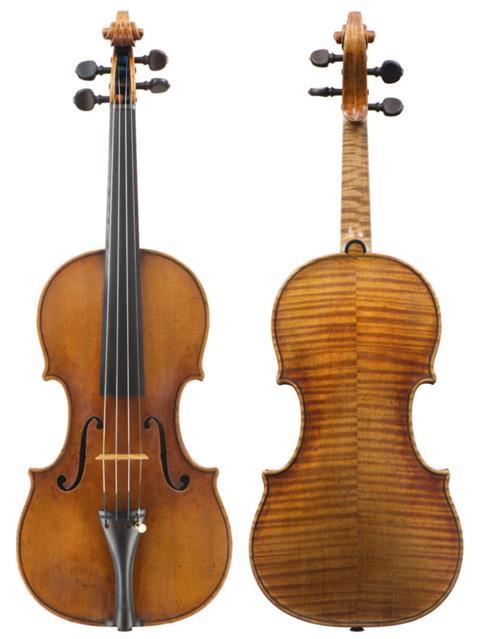 Seventeen-year-old US violinist Yesong Sophie Lee has received the 'Bello, Marie Law' Stradivari of 1687 on long-term loan. The was organised through Rare Violins of New York, which sold the instrument in 2012 to its current owner, an Italian collector. Since 2016 the firm has been matching rare insruments to players via its 'In Consortium' scheme.
The 'Bello, Marie Law' is an exceptionally well-preserved instrument with a good deal of original varnish. It was made during Stradivari's 'Amatise' period, reflecting the influence of Nicolò Amati; the maple he used for the back, ribs and scroll are well chosen and have a medium flame. Among its previous owners are the collector Robert A. Bower, who at one point owned no fewer than 24 Stradivaris; and José Mariano Bello of Mexico, from whom it takes its name. It was loaned to the violinist Marie Law in around 1910; more recently it was played by Italy's Maristella Patuzzi on the album Intimamente Tango (2015).
Lee first came to attention in 2016 when she won first prize in the junior section of the Yehudi Menuhin Internaitonal Violin Competition. At the age of eight she performed as a soloist with the Seattle Symphony, and has been concertmaster in the Seattle Youth organisation. She has also appeared with the Philharmonia Orchestra in London, the Detroit Symphony and the Orchestre de la Suisse Romande in Switzerland.
Read: Yesong Sophie Lee wins Menuhin Competition 2016 Junior Division
Read: Long missing 'Ames, Totenberg' Stradivarius now on long-term loan to Nathan Meltzer
Read: The Strad Calendar 2021: 'Arditi' Antonio Stradivari violin
Other instruments to have been loaned out through the 'In Consortium' scheme include the 1734 'Ames, Totenberg' Stradivari, now played by Nathan Meltzer; the 1722 'Lord Wandsworth' Stradivari, to Kevin Zhu; and a 1718 Stradivari to Gil Shaham.