The former winner of the Karol Lipiński and Sendai violin competitions wins €8000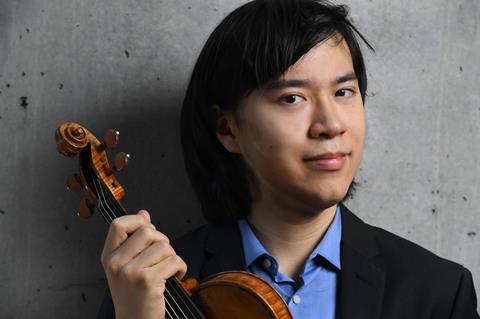 20-year-old Elias David Moncado has won the Valsesia Musica International Competition in Italy. The violinist of Spanish, German and Malaysian heritage scooped first prize of €8000 following his performance of the Tchaikovsky Violin Concerto with Orchestra Antonio Vivaldi conducted by Lorenzo Passerini on 13 November.
Second prize was awarded to Teofil Milenkovic from Italy and third prize to Cord Koss from Germany.
Moncado was the youngest ever winner at the 2019 Karol Lipiński Violin Competition, as well as the 7th International Sendai Violin Competition in Japan. He is currently a student at the Universität Mozarteum Salzburg with Pierre Amoyal and plays a violin by Giambattista Rogeri of Brescia (c1700) as a prizewinner and scholarship holder of the Deutsche Stiftung Musikleben Hamburg.
Now in its 37th iteration, the Valsesia Musica International Competition is open to musicians of rotating disciplines under the age of 37. Previous violin winners include Antal Szalai, Nikita Borisoglebsky, Fedor Rudin, Francesca Dego, AnnaTifu, Edoardo Zosi and Sayaka Shoji.
Read: Prizes awarded at 5th Karol Lipiński Violin Competition
Read: Prizes awarded at IsangYun Violin Competition