The former winner of the Joseph Joachim International Violin Competition's €2 million Guadagnini violin was confiscated at Chisinau airport in October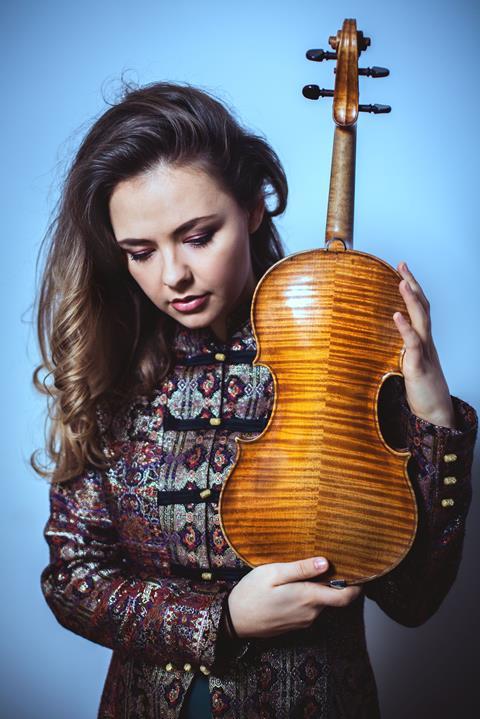 Violinist Alexandra Conunova has initiated a petition pleading the return of her €2 million Guadagnini violin, which was confiscated by Moldovan customs officials earlier this year in October.
Conunova stated that the incident happened over six weeks ago, during which time she has experienced severe disruption to her professional and personal life: 'I am very worried, during this time not only did I miss concerts, I had to change my schedule, neglect my child, rent another violin'. She continues to say that the ordeal has taken its toll on her psychological state and mental health. 'So after all this, a series of baseless investigations follow, which upset my life and professional activity!'
Conunova was accosted by officials at Chisinau airport on 22 October as she was leaving the country. She had been recommended to provide a declaration of valuable goods upon entry and exit of the country from an authorised luthier in the form of a violin passport. However, the passport contained an erroneously written statement of the luthier's own initiative, stating that Conunova's instrument, the c1785 Guadagnini 'Ida Levin' violin, represented historical and cultural value for Moldova. Despite presenting a contract explaining that the instrument is loaned to her by a Swiss music patron, the violin was thereupon seized under suspicion of smuggling.
The weeks following have consisted of an apology from the Moldovan officials, as well as further forensic tests to establish the authenticity of the instrument, where the violin was mistakenly confirmed as a Stradivari, instead of a Guadagnini. Conunova's lawyers have requested release of the instrument, while Interpol are working to verify whether or not the violin is stolen or reported as missing.
She says, 'For more than a month we have all been in a state of ambiguity and we have been totally disappointed by the prosecution, which, with each request for information from my lawyer, presents more and more different information, instead of hastening and facilitating the process'
Using the hashtag #freeguadagnini, Conunova has called for solidarity on social media, in order 'that it is understood once and for all that [the officials] cannot and are not entitled to abuse their power, to retain foreign private property here in Moldova.'
The petition can be found at https://www.petitieonline.com/freeguadagnini
Read: Former Joseph Joachim competition winner has €2 million Guadagnini confiscated at airport
Read: Musicians' instruments confiscated at Domodedovo Airport, despite having passports
Read: Update: Airport reimburses cellist for bows broken in security check