24 international violinists will have the chance to compete for the top prize package worth €25,000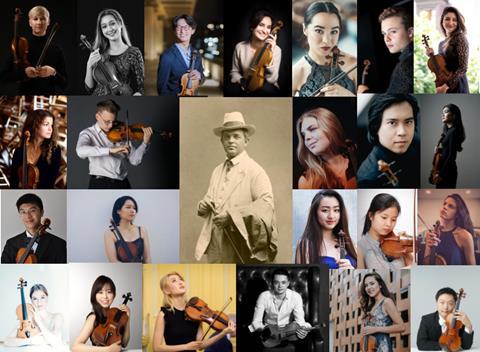 The Carl Nielsen Competition have announced the participants for the 2022 edition, which will take place in Odense from 31 March to 10 April. 72 young musicians between the age of 17 and 29 have been chosen to take part in this year's competitions for violin, clarinet and flute.
The announcement follows Denmark's decision this week to lift all Covid restrictions. ­­ ­ ­
­More than two-thirds of this year's participants have also signed up for Espansiva! – a new mentoring programme, specifically designed to offer industry insight through talks, workshops and one-to-one personal conversations for the contestants at appropriate times during the 11 days of the competition.
Nikolaj Szeps-Znaider, competition president says 'We look forward to welcoming as many young musicians as possible to Odense, knowing that it is more important than ever for them to have the chance to compete and spend time together.
'Excellence, curiosity, individuality and community are the values that were core to Carl Nielsen in his approach to life and music, and they remain the same values that underpin the approach of both the competition and Espansiva!'
The violin contestants are as follows:
Hans Christian Aavik (23, Estonia)
Ava Bahari (25, Sweden)
Daniil Bulayev (17, Latvia)
Hana Chang (19, United States)
Seat Byeol Choi (25, South Korea)
Anna Da Silva Chen (25, Australia)
Fanny Fheodoroff (25, Austria)
Léon Haffner (23, France)
Kingston Ho (20, United States)
Wenlan Jackson (19, United States)
Amia Janicki (24, Switzerland)
Sarah Jégou-Sageman (23, France)
Eun Che Kim (24, South Korea)
Maya Levy (24, Belgium)
Bohdan Luts (17, Ukraine)
Emma Meinrenken (22, Canada)
Elias David Moncado (21, Germany)
Jason Moon (22, United States)
Maine Nishiyama (21, Japan)
Alexey Stychkin (21, Russia)
Karen Su (23, United States)
Natsumi Tsuboi (28, Japan)
Pauline van der Rest (17, Belgium)
Chaofan Wang (21, China)
First prize winner will receive a prize package including a cash prize of €12,000, a recording deal with Orchid Classics and Odense Symphony Orchestra worth €13,000 and solo engagement with top Nordic orchestras.
The winners of the 2019 competition were violinist Johan Dalene, flautist Joséphine Olech and clarinettist Blaz Sparovec.