Chetham's School of Music in Manchester has been ordered to pay £45,000 in damages for assaults carried out in the late 1990s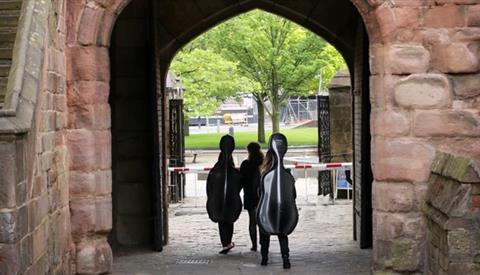 A judge has ordered Chetham's School of Music (CSM) in Manchester, UK, to pay £45,000 in damages to a former pupil who alleges she was subject to sex abuse at the school.
The school was found to be 'vicariously liable' for the abuse, which was allegedly carried out by Wen Zhou Li when he was a violin teacher at CSM in the late 1990s.
Li, who denies the allegations, was previously charged with one count of rape and two counts of sexual assault but the case collapsed in 2016 after prosecutors offered no evidence against him.
However, after a civil hearing against the school, Mr Justice Fordham found that it was more likely than not that the abuse had occurred and that CSM 'created or significantly enhanced' the risk that the claimant, known as 'Abigail', would be abused.
He said: 'The employment relationship at CSM caused Mr Li to have access to Abigail at CSM as her one-to-one instrumental tutor and on a day-to-day basis.
'The employment relationship at CSM gave Mr Li an opportunity, one which was incidental to his functions as a violin teacher, to abuse his power.'
Read Former Chetham's violin teacher facing sex offence charges found dead
Read Curtis Institute apologises for handling of recent historical sex abuse claims
Read Former RNCM head of strings Malcolm Layfield charged with rape
At the time of the alleged assaults, Abigail was an overseas pupil at CSM and as a result was required to have a UK-based guardian. As her teacher, Li was able to fill this role and Abigail spent the half-term break and some weekends at his home.
'Mr Li exploited the opportunities presented by being Abigail's teacher and by being her guardian,' the judge said, finding a 'strong causative link' between Li's role at CSM and his abusive behaviour.
'He initiated and controlled what happened physically and sexually and its escalation.
'He exploited Abigail's submission to his actions and is affronted by what he sees as her failure to give a "signal" of a lack of consent.
'The employment relationship between CSM and Mr Li facilitated the commission of the sexual abuse of Abigail by Mr Li, by placing Mr Li in a position where he enjoyed both physical proximity to Abigail and the influence of authority over her.'
In a statement, CSM said: 'Our thoughts today are with the survivor, our former student.
'The current Chetham's team carries a sense of deep regret and sorrow for the way in which some former teachers at our school betrayed and manipulated the trust that had been placed in them. We will remain forever sorry.
'While nothing can ever undo what happened in the past, our Chetham's community today is determined to support survivors and work with safeguarding authorities in any way we can.'