Frank Peter Zimmermann, Antoine Tamestit and Christian Poltéra on learning to work as one in the Trio Zimmermann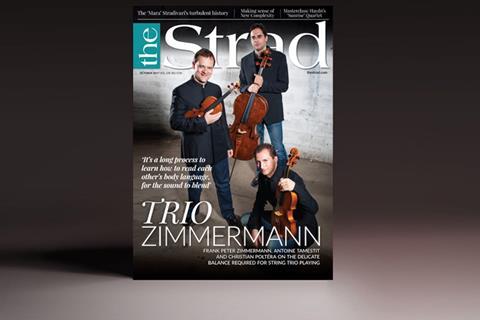 The Strad October 2017 issue is out now, in which we talk to the Trio Zimmermann. Made up of three international soloists – Frank Peter Zimmermann, Antoine Tamestit and Christian Poltéra – the chamber group has tackled some of the trickiest of the available repertoire.
We stay with the string trio format for a round-up of some of the most important works by composers from the 18th century onwards; and Christian Poltéra returns as part of a focus on the 'Mara' Stradivari cello, where we learn the story of this instrument from the master's 'golden period' – and how it was brought back from the brink of destruction.
Elsewhere in the issue, the first of two parts on the New Complexity genre takes us to back to the late 1970s and 80s and a group of composers looking to extend musical language; and our Great Cellists series continues with a focus on the life and recorded legacy Miloš Sádlo, the Czech soloist, chamber musician and teacher.
We also find out more about the instruments which feature in the The Strad Calendar 2018, as John Dilworth examines the twelve Cremonese examples from the collections of the Friends of Stradivari, a global network of instrument enthusiasts.
In our regular sections: In Focus features an 1812 violin by Nicolas Lupot; Sebastian Dirr explains the workings of an intricate tool for bow winding in Trade Secrets; My Space features the workshop of Munich-based luthier Peter Erben; consider creating a mini photographic studio in your workshop in Making Matters; in our monthly Masterclass, Erik Schumann marks up and takes us through the first movement of Haydn's 'Sunrise' Quartet; a new approach to staccato in Technique; the memories of Joel Krosnick, former cellist of the Juilliard Quartet, in Life Lessons; the Postcard comes from Wyoming with a report from the 2017 Grand Teton Music Festival; and Leonard Elschenbroich's considers Brahms's First Cello Sonata in Sentimental Work.
We also bring you news of the latest competitions, products and auctions, and comprehensive reviews of concerts, CDs and books.
The digital magazine and print edition are on sale now.