The GoFundMe page, set up by mother-and-daughter team Aruna Talapatra and Nadia Sayed, aims to raise $25,000 for Mariupol luthier Oleksandr Smykovskyi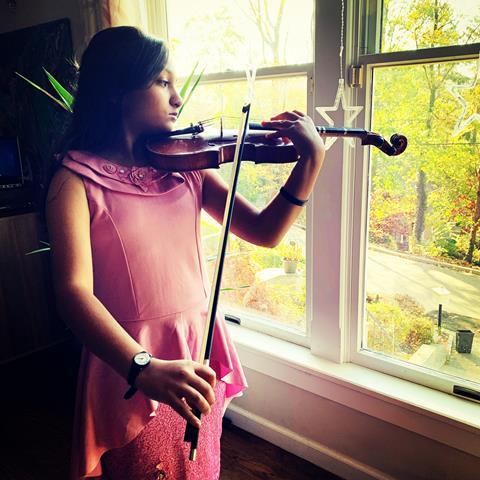 Read more news articles here
After reading on The Strad website about Mariupol luthier Oleksandr Smykovskyi, whose entire workshop and livelihood was destroyed following the Russian invasion of Ukraine in February 2022, young violinist Nadia Sayed and her mother Aruna Talapatra decided to help the violin maker by setting up a GoFundMe page.
After his home and workshop were destroyed by Russian forces, Smykovskyi left his city with only a backpack and the clothes he was wearing, embarking on an arduous journey through occupied territories, and eventually found shelter in Vinnitsa. Smykovskyi later found and relocated his elderly parents and uncle, but his aunt was killed in the bombing. For Smykovskyi and his family, daily survival meant adapting to constantly changing conditions.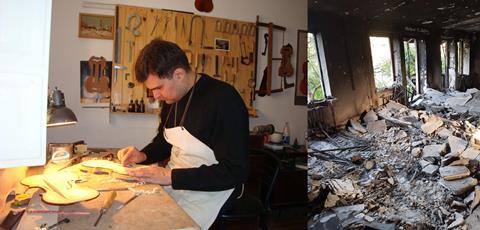 Based in Long Island, New York, Aruna Talapatra and her ten-year-old violinist daughter Nadia Sayed read about Smykovkskyi's plight on thestrad.com. Nadia, who started playing the violin at the age of four and has already performed in numerous string festivals and children's orchestras, told her mother that she wanted to help Smykovskyi.
Talapatra contacted US violinist Gary Sinderovsky, who had donated one of Smykovskyi's violins to an auction to help raise funds for the luthier. The violin was included in Tarisio's June 2022 New York Fine Instruments and Bows Auction, with the proceeds sent to Smykovskyi and the auction house waiving its fees.
Sinderovsky explained to Talapatra more about Smykovskyi's desperate situation and agreed that a GoFundMe would be the best way to help him. Sinderovsky introduced Talapatra and Nadia to Smykovskyi via email. As they developed a relationship with the luthier, Smykovskyi described how he was finally able to move his family, ages 79 to 84, through occupied territories and humanitarian corridors to join him.
'They are finally free,' wrote Smykovskyi, 'but they are very damaged after two months of living in the basement without light, heat, hot food, and any medical care.'
In April 2022, Talapatra created a GoFundMe fundraiser for Smykovskyi. She shared how Smykovskyi had lived his entire life in Mariupol and opened his violin making business in 1996 and how following the outbreak of war, after more than 5,000 Mariupol civilians were killed by Russian forces, he was forced to flee with nothing.
Smykovskyi had told The Strad: 'My home and my violin shop are completely destroyed, including all my tools, my woods, all instruments including five new violins in various stages of completion. Like many of my countrymen, I am a now a displaced person, a refugee without any basic belongings or means of livelihood.'
As of 6 March 2023, the GoFundMe has raised more than $18,000. Talapatra transfers the funds to Smykovskyi, and she and Nadia email him as often as possible. Sometimes weeks or months will pass before he can reply. He recently wrote, 'I'm sorry for the long silence, but a lot of complicated circumstances all around, and under such conditions, it is almost impossible to fully control your own life.'
Nadia hopes to raise at least $25,000 in support of Smykovskyi. She knows that before he opened his workshop in Mariupol, he was invited to apprentice with renowned violin makers in Padua and Cremona, Italy, and that many violin shops around the world would welcome him, but he cannot leave Ukraine. She believes that although she and Alex are different in many ways, they are connected by their love for stringed instruments, as he makes violins while she plays them.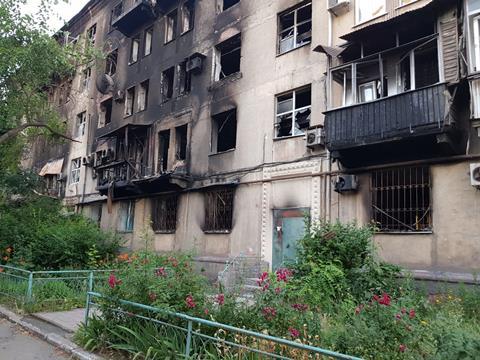 Talapatra sent Smykovskyi a video of Nadia playing her violin. Smykovsky replied gratefully, writing, 'You know, we will definitely and more than once talk about music, and I am sure that one day we will see each other…Now I miss the world in which I lived, the world of beauty and harmony, and when I watched Nadia play I returned to it again.'
Nadia and Smykovskyi look forward to the day when they can meet in person. They look forward to a time when it is safe for Alex to live in Ukraine, and rebuild his workshop, and when Nadia and her parents can travel there to visit him to play one of Smykovskyi's violins.
Donations for Alex in any amount are welcome on GoFundMe.