Web-based auction house Bridge Financing initiative aims to match artistically minded investors with musicians in need of loans to purchase instruments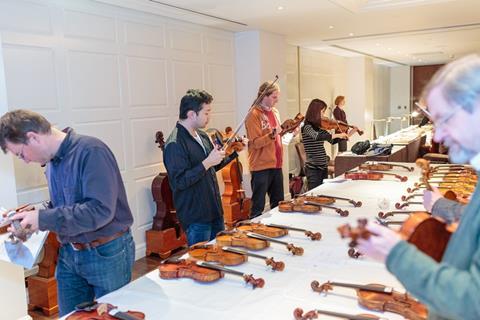 Online instrument and bow auction house Tarisio, with bases in London and New York, has launched Tarisio Bridge Financing, aiming to provide musicians with 'a flexible payment method through short-term loans, allowing them to make the most of auction opportunities'.
According to the announcement on 6 October, 'At the same time, this program offers philanthropically-minded investors the chance to make a return on their capital, while knowing they are investing in the arts and having a direct, positive impact on musicians.'
Offering loan amounts between $10,000 and $50,000 on a maximum 50% load-to-value ratio for up to a 12-month term, the programme is geared towards the short-term financing needs of musicians buying at auction.
'For many musicians, the biggest obstacle to buying a fine instrument or bow is often that full payment must be made shortly after the sale. You may find your dream instrument but coming up with the complete funds to purchase it can take months. This program is designed to bridge that gap,' explains the Tarisio website.
The loans are offered on a flat 0.83% per month interest rate, i.e. an annual compound rate of 10.43% (non-compounded equivalent 9.96%).
From investors Tarisio Bridging asks for a minimum participation of $50,000, secured against the value of the instrument/bow.
More details at tarisio.com/bridge-financing