A factory in the Fiemme valley is asking luthiers and the public to buy IOUs so it can quadruple its processing capacity before the wood deteriorates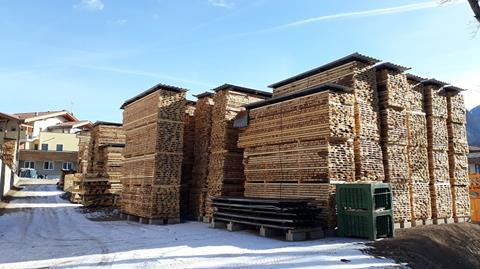 A crowdfunding initiative by a northern Italian tonewood factory has already attacted 700 contributions from around the world.
Storms in northern Italy in October last year flattened large portions of Alpine forest, with winds of up to 110mph uprooting over 1.5 million trees, including in Paneveggio national park in the Fiemme valley where Stradivari is thought to have selected spruce for the tops of his instruments.
The forests, where conditions favour the growth of spruce with a very tight and straight grain, still provide a great deal of tonewood for the manufacture of violins, guitars and piano soundboards. The nutrient-poor soil and cold winters promote a very slow growth, and trees suitable for tonewood tend to be 150-250 years old. Only around three per thousand exhibit the right characteristics, but even so the storms took down more than four times the annual needs of the tonewood industry.
As The Strad reported in December, the local tonewood factory Ciresa took an innovative approach to grappling with the oversupply of felled trees which will begin to deteriorate if they remain on the forest floor at the mercy of insects and moulds as warmed weather sets in.
It launched a crowdfunding initiative to enable it to make the necessary investment, in selecting, storing and processing the wood. It is offering two options: luthiers and existing customers can deposit an amount as advance payment on future orders; music lovers and anyone else concerned about 200-year-old tonewoods ending up as firewood, can simply make a cash deposit which Ciresa will refund within three years.
Ciresa's owner Fabio Ognibeni told The Strad: 'The collection and selection of resonance trees is a big commitment for us – and very hard work: throughout December and January, even with temperatures of minus twelve, we did not stop!
'To date we have saved about 950 trees, and we are almost half way to our goal of 2200. And now the temperatures are very much better.'
Apart from collecting and milling the trees, Ciresa has had to rent space in timber yards in order to store it.
'We have raised about €180,000 in funds (with a commitment to repay) but the investment required from Ciresa for this challenge to recover the tonewood will be about €600,000,' Ognibeni said.
Ciresa is accepting crowdfunding contributions until July in three tiers, €80, €150 and €300, the latter equivalent to saving an entire tree. The company will issue a receipt and a violin-shaped keepsake made out of Fiemme spruce.
For more details, visit the Ciresa website.