Shanghai Conservatory of Music's biennial Viva la Viola festival returned for its sixth instalment in November, turning the spotlight on one of the most underrated instruments in China, writes Nancy Pellegrini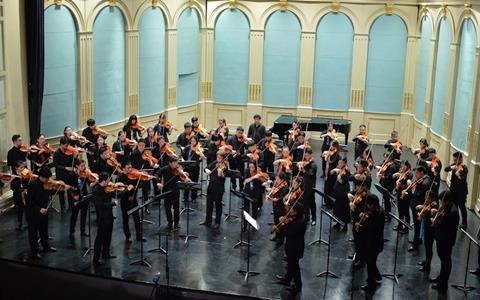 Jensen Horn-Sin Lam is a champion of the underdog. As viola and chamber music professor at Shanghai Conservatory of Music (SCOM), he showcases some of music's least appreciated players. His international chamber music festival and competition, held at SCOM, has helped to transform China's view of the string quartet, lifting it to the status of invaluable art form (see The Strad, August 2018).
But even more crucially, in a country that deifies the solo violinist, he has elevated the viola to staggering heights. From 12 to 16 November 2018, the sixth edition of his biennial Viva la Viola festival provided violists with stellar concerts, workshops, seminars and masterclasses; and above all, it gave them something to be proud about.
According to Lam, Viva la Viola is one of the world's only regularly held festivals that eschews a competition, features a large viola ensemble and honours its own students in its own city. While invited guests give high-profile workshops and concerts (this year's artists included Nobuko Imai, Sang-Jin Kim, Thomas Riebl and Lars Anders Tomter), at the core of the event are the SCOM teaching department and alumni concerts.
'On stage, there is no difference between teachers, professors and students; we are all equals,' says Lam. 'We are a family.' He even postponed this most recent iteration of the festival by a year to coincide with legendary professor Shen Xidi's 80th birthday, and honoured her throughout the week.
The opening concert featured a 58-piece viola ensemble, from which a trio, quintet and octet later emerged, with the full company concluding the programme; works were by both Chinese and Western composers and included Yao Chen's Synchronicity. A concert highlight was Vladimir Rosinsky's Music for Three Violas featuring Lam and colleagues Sheng Li and Nan Liu, both of whom played with preternatural timing and confidence.
The piece was energy in motion – it snapped, it bit, it transfixed the audience. 'Rosinsky was a rock band player,' says Lam. 'We had to imitate his electric guitar. His works have a very strong sense of rhythm, and he's always using major 7th or minor 2nd chords to increase the tension. Something is always happening.'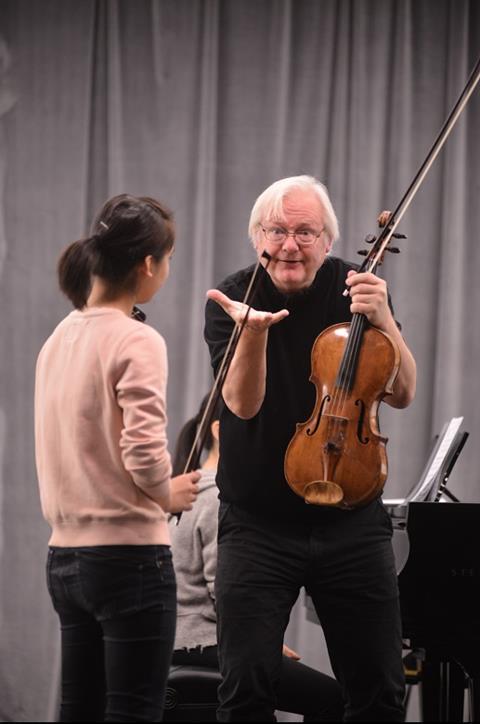 Other performance highlights over the five-day festival included 2018 ARD International Music Competition second-prize winner Yucheng Shi playing a viola arrangement of Bach's Cello Suite no.6, a piece that rippled like velvet through a hall full of mesmerised listeners; and Sang-Jin Kim's double encore of pieces he himself composed. In the festival's closing concert Imai's viola quartet played a staggering Debussy Suite bergamasque whose 'Clair de lune' duet was so achingly beautiful it sounded like it had originally been scored for the viola; ensemble member Wenting Kang is both a standout player and a brilliant arranger.
Even better were the workshops. To teach Bartók's 44 Duos for Two Violins (transcribed for viola), Imai and her quartet spoke about travelling to Hungary and studying with local musicians; Imai then played the scratchy, ancient folk-song recordings that the composer made in Serbia, Romania and Transylvania. 'Try to be a little drunk,' she said, swaying lightly as she coached two student violists in a looser, more unstructured style. She explained that locals had been suspicious of Bartók's recording equipment, 'but when they started drinking, they started singing'. Bartók collected thousands of pieces, some of which he used for his compositions. 'He derived his idea of folk music from this,' said Imai. 'The easiest thing [for students] to do is to listen to the recordings.'
In his workshop, Riebl combined teaching Bach with general health and stagecraft. On awareness of the centre of gravity, he said: 'Your bow arm comes up without effort, and the problems with your shoulders are gone.' On breathing from the abdomen, he pointed out: 'Every baby does it naturally, and it's in nature – high tide, low tide. Everything expands and contracts, opens and closes.' About the lighter Baroque bow, he said: 'I call it a second assistant teacher; it does so much by itself. Not using a Baroque bow for Bach is like running in walking boots.'
He also demonstrated three on-stage entrances: shy, arrogant and confident. 'Always do the third one,' he said. 'The audience knows.' Throughout the week Riebl also showcased the five-string viola he developed with luthier Bernd Hiller, which adds a low 5th to expand its range. But it's not for everyone. 'You have to be quite tall,' he said. 'It needs to be a big instrument, because otherwise you don't get the sonority. It's longer, with higher ribs and a wider neck. When I started playing with five strings, I had to do push-ups!'
In terms of student participation, Viva la Viola seemed to be from another age. In the 1980s, when China had just opened to the West, any masterclass would pack in hundreds of fervent students. Today, masterclasses have become routine – yet this festival generated the same enthusiasm and the same crushing crowds as in the past: standers were crammed against the back wall, and students eschewed food, cigarettes and even bathroom breaks to secure seats for whatever programme was next.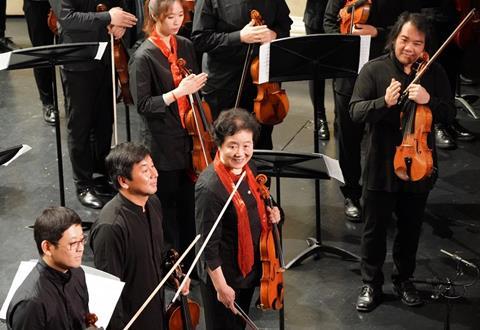 'This year we had 200 people, who came from all over China and Taiwan,' says Lam. 'Teachers and students from other schools are grateful that we're doing such an important education and performance event with these great foreign artists, or they might not have had the chance to hear them.' Viva la Viola also releases dedicated publications containing ensemble pieces arranged for viola, tips for training and technique, and viola compositions with Chinese elements; and there are gift bags for guests and teachers. 'There aren't many materials for viola education,' says Lam. 'We like to share.'
Sharing is the essence of Viva la Viola – and maybe of violists themselves. When asked why these viola ensembles gel so well, Imai said, 'It's probably something to do with personality. Violists like to be together.' And Riebl feels that everywhere he goes 'the violists are the nicest group'; and, he says, 'the best viola jokes come from violists'.
Lam cautioned arrangers working with viola ensembles to include upper and lower registers, otherwise listeners' ears could get physically tired. In terms of the character of a viola player, he agreed with his colleagues: 'There's a joke that in string quartets the violinists are the showy personalities and the cellist is another prima donna in the lower register – but the violist is the peacemaker.'
In Shanghai at least, the dedicated ensemble is catching on, with all-flute, all-oboe and all-clarinet ensembles springing up, following the example of Viva la Viola. This has done a lot for viola pride. 'By having arrangements of technically difficult pieces for small viola ensembles, like Paganini's La campanella for five violas, we are no longer third-class but first-class citizens. Violinists are surprised and a little jealous about that because they have it for only one player,' says Lam. 'We have proven ourselves.