Technical level was higher than ever before at the 2023 Montreal International Music Competition, but it was musicianship that really took centre stage, finds Rita Fernandes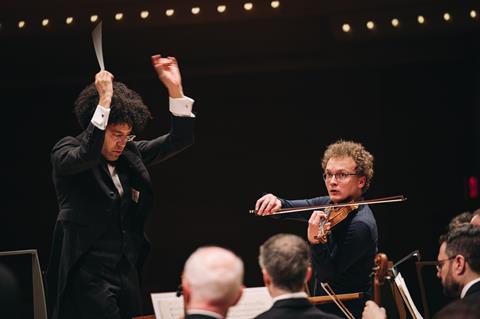 Discover more Featured Stories like this in The Strad Playing Hub.
Read more premium content for subscribers here
The phrase 'the Olympics of the violin' is often thrown around when major violin competitions are being talked about. And the similarities between the two types of event struck me at many stages of my experience of the Montreal International Music Competition, which took place from 22 April to 4 May. In both the semi-finals and the finals, the competitors' flags stood proudly at the back of the stage. The judges were placed high above the audience in the semicircular balcony, and were separated to avoid deliberation. And everything was repeated in both English and (a Québecois-flavoured) French.
As for the 'athletes', many were already laureates of major competitions. Some were playing on 'del Gesù' violins; one was even sponsored by a major string manufacturer, and technically, all were at the top of their game. Only in these types of competitions can you see a 19-year-old nail fingered-octave passages at 11pm after playing two full sonatas. 'The level just keeps getting higher,' Shira Gilbert (interim artistic director) told me when talking about the competition's 22-year history, which has now seen seven violin editions.
But to compare the violin competition world to one dictated by statistics and objectivity could be seen as an insult to the artistic integrity shown by each of the competitors. And with the technical level being so consistently high, it was artistry and subjectivity that would dictate success.
I arrived to watch the last three of four semi-finals on 29 and 30 April. Each concert featured three competitors and took place at the church-turned-recital hall Salle Bourgie in downtown Montreal. The competition's broad repertoire list meant that the semi-finals saw incredibly diverse programmes. The endless programmatic possibilities for their 60-minute recitals were, in the words of competitor Nathan Meltzer, 'incredibly musically fulfilling'.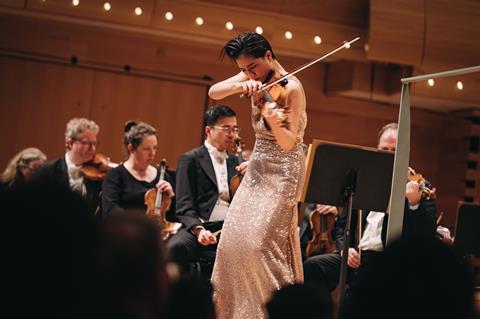 Technically, it was nearly impossible to differentiate the players. What separated them instead was musical maturity, originality and versatility. The first standout was SongHa Choi (b.2000) from South Korea. She began with Bartók's Violin Sonata no.1 – in my opinion, the competition's best performance. From the first note, she inhabited the music. She showed incredible versatility in the sonata's dramatic contrasts, owning them completely with her self-assured stance. It felt less like an interpretation, more like a lightbulb moment in which I thought, 'Oh, this is how the piece should be played!'
On the last day of semi-finals, SooBeen Lee (b.2000) from South Korea performed with ease and confidence. In Ysaÿe, Franck and Hubay she had the allure of a seasoned professional and the technique to back it up – not surprising for a laureate of the Junior Menuhin Competition (second prize, 2012). Bohdan Luts (b.2004) from Ukraine stunned with his stylistic versatility. More than any other player, he had an uncanny ability to adapt to each composer while keeping a trademark poise.
The results were announced at exactly midnight on 30 April. To my surprise, Luts was not among the final six. Instead, it was Choi, Lee, American Nathan Meltzer (b.2000), Israeli Michael Shaham (b.2003), Khazak Ruslan Talas (b.1998) and Ukrainian Dmytro Udovychenko (b.1999). With finalists revealed, the real moment of truth came: would the finals see six Tchaikovsky Violin Concertos? Thankfully, the competitors chose six different concertos – a first in the competition's history.
The finals took place on 3 and 4 May at the Maison Symphonique. The modern hall, which opened in 2011, has a stylish wooden interior and rich acoustic. In their 45-minute rehearsals with the Orchestre Symphonique de Montréal (OSM), the finalists were professional beyond their ages and knew instinctively where to underplay or ignore slips.
SongHa Choi's Bartók was simply unforgettable, even after six brilliant concertos
As I talked to them after rehearsals, it became clear that most were simply treating the final as a concert and chance to perform with what many described as 'the best orchestra I've played with'. I can personally attest that in both rehearsals and concerts, the OSM was an active part of every contestant's music making. Concertmaster Andrew Wan told me, 'It's really all because of Rafael Payare,' referring to the OSM's dynamic Venezuelan music director, who began his tenure in September 2022.
The finals kicked off with Udovychenko playing Shostakovich's Violin Concerto no.1. While the first two movements were technically flawless (other than small misalignments with the orchestra), musically, they served as a warm-up for the breathtaking third. His understated intensity and sense of emotional progression allowed the third movement to move seamlessly into a similarly powerful cadenza and spirited fourth.
Next was Nathan Meltzer with the bold choice of Berg's Violin Concerto, which he had – in his own words – selected for its 'obscurity'. It was clear he knew every corner of the piece. The expressionist colours he painted felt both instinctive and thought-through. And despite never before having played the work with an orchestra, he blended in seamlessly: a testament to each side's musicianship. Finally came Michael Shaham with the Sibelius Violin Concerto. He was confident and technically stellar, apart from a few slips, but lacked originality.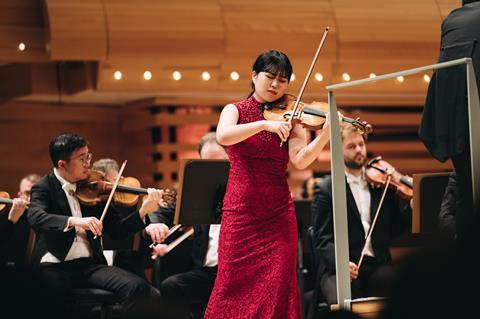 Choi went first on 4 May with Prokofiev's lesser-played Violin Concerto no.2. 'I love Prokofiev's fairytale style,' she told me. 'I want to do something on stage that doesn't come through in a recording.' And that she did. As was the case with Meltzer, her deep knowledge of the piece, both structurally and musically, was evident. Her superb technique was always at the service of Prokofiev's myriad moods and characters. She was both clearly the soloist and enmeshed with the orchestra.
Next came Lee with Tchaikovsky's Violin Concerto. Despite her confidence and impeccable technique, the first two movements veered dangerously close to being 'just another Tchaikovsky', only to be saved by her personality-packed third movement. Her self-assurance was second to none, and small slips were easily brought back under control. And finally, Paganini's Violin Concerto no.1 saw several destabilising slips by Talas in an otherwise technically and musically spellbinding performance.
Udovychenko took first prize, consisting of a CA$30,000 cash prize, a $50,000 career development grant, a North American concert tour and a performance with the OSM. He also received the prize for best performance of a work by Bach. The $15,000 second prize went to Choi and the $10,000 third prize to Lee. Choi also racked up the audience prize, best performance of the commissioned work (Luna Pearl Woolf's L'inconnu.e bouleversant.e for solo violin) and – thankfully – best performance of a sonata. That Bartók was simply unforgettable, even after six brilliant concertos.
With the careers of soloists becoming more dependent on competition success, and prize pots swelling by the year, it is no surprise that the competitors' exceptionally high technical level was a common talking point. But it seemed mainly reserved for audience interval chitchat. The performers were more interested in making music.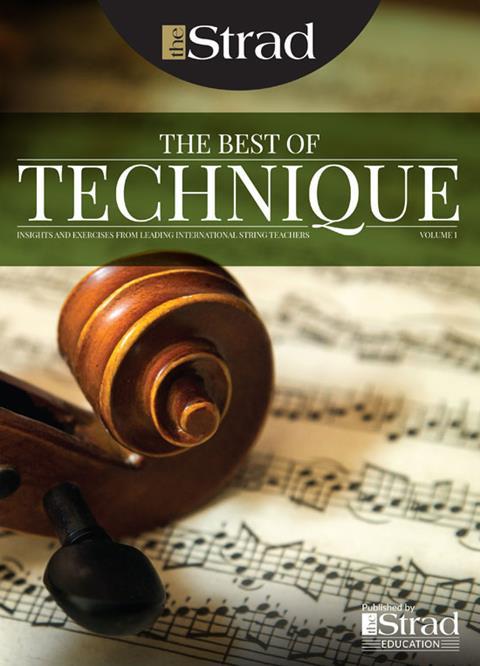 In The Best of Technique you'll discover the top playing tips of the world's leading string players and teachers. It's packed full of exercises for students, plus examples from the standard repertoire to show you how to integrate the technique into your playing.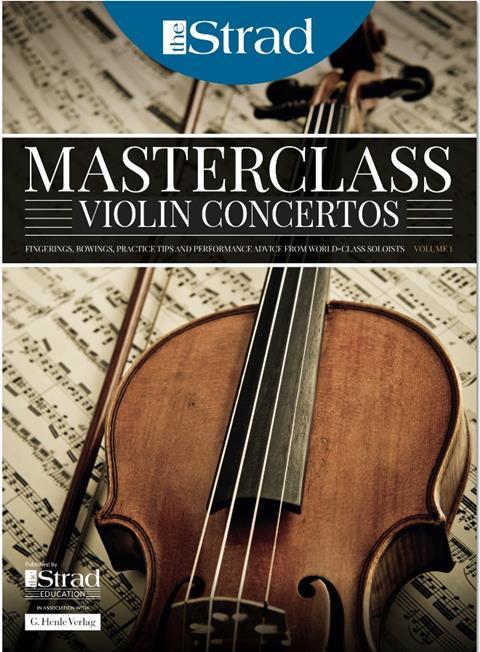 The Strad's Masterclass series brings together the finest string players with some of the greatest string works ever written. Always one of our most popular sections, Masterclass has been an invaluable aid to aspiring soloists, chamber musicians and string teachers since the 1990s.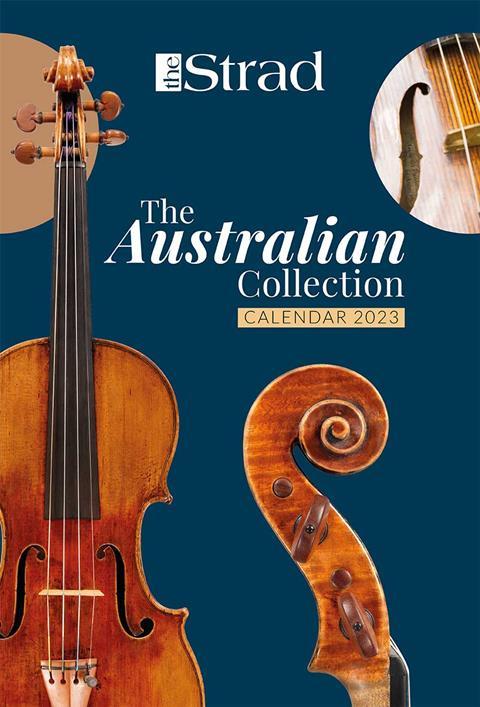 This year's calendar celebrates the top instruments played by members of the Australian Chamber Orchestra, Melbourne Symphony, Australian String Quartet and some of the country's greatest soloists.