The violin, valued at just under $4 million, was played by the Irish violinist Patricia Treacy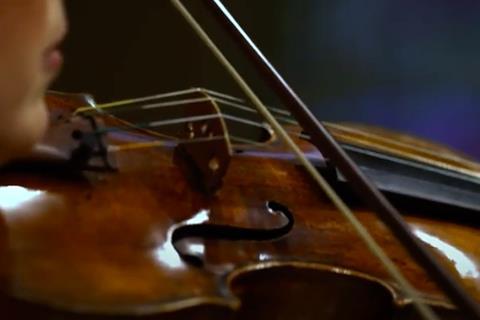 A rare Stradivari violin was loaned for a performance during President Joseph R. Biden's inaugural mass yesterday at St Matthew's Cathedral. The violin, made by the legendary Antonio's son, Omobono, was played by the Irish violinist Patricia Treacy, who performed 'The Proclamation' and 'On Eagle's Wing' via video recording from Chicago's St Patrick's Church in accordance with heightened security procedures. Treacy hails from the same part of Ireland as Joe Biden's ancestors: County Louth.
Valued at just under $4 million USD, the violin, which previously belonged to violinist Jesse Cecci for almost 50 years, is now up for purchase for only the third time since 1963. Omobono Stradivari made the violin under the direction of his father, Antonio, in Cremona, Italy circa 1700, during his father's coveted 'Golden Period.'
It is now part of a collection available from Bein & Company - a business newly launched by Joe Bein that provides fine stringed instruments to renowned musicians around the world. Bein, a member of a multi-generational musical family, embarked on his journey into the violin business during his high school years when he accompanied his violin expert father, Robert Bein, on business trips to London and Boston.
Watch: Sara Zeneli plays 'il Cremonese' Stradivari at the Museo del Violino
Watch: Auner Quartett violinist plays 'ex Rouse-Boughton' Stradivari
Read: 'It was like the earth moved beneath me' – violinist Leonidas Kavakos on playing the 'Willemotte' Stradivari
Robert trained Joe in the study of instruments, particularly on the importance of provenance, and in the cataloguing of great makers. Joe now has relationships with musicians from all over the world, and has worked with concertmasters and principal players from orchestras such as the Chicago Symphony, Cleveland Orchestra, Dallas Symphony Orchestra, Los Angeles Philharmonic, Nashville Symphony, Seattle Symphony, St. Louis Symphony, Toronto Symphony, and Utah Symphony.
'Our support of artists has never been more important than it is right now,' said Joe Bein. 'During a moment when the musical world is in peril, our company will inspire musicians with some of the world's most beautiful instruments. We will provide expertise, trust and integrity to help shape classical musicians for generations to come.'