Shop belonging to fiddle player Byron Berline in Guthrie burns to the ground with loss of hundreds of instruments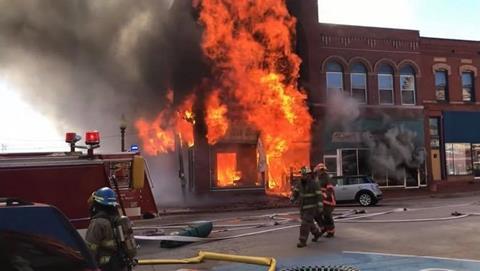 The Double Stop Fiddle Shop in Guthrie, Oklahoma has burned down in a fire with the loss of its entire stock. The shop is owned by Byron Berline, a three-time National Fiddle Champion and recording legend who has played with his own bands and as a session musician for a roster of famous names including Bob Dylan, Emmylou Harris, Arlo Guthrie, Willie Nelson and the Rolling Stones.
The fire, which began on Saturday 23 February, claimed the fiddle shop and a flower shop next door but was prevented from spreading further.
'When it happened I was in Mexico,' Berline told The Oklahoman. 'I got a text saying that the flower shop and fiddle shop's on fire. After that it wasn't long till I got more pictures and I knew it was totalled.'
'It's a big part of my life and it all went up in smoke … my whole livelyhood was in there, over 400 fiddles, several guitars…
'Those ought to be handed down from generation to generation. We just take care of them for a while and then somebody else gets them and plays them and enjoys them. Now that can't happen, and it just makes me so sad.'
In a video from Guthrie News (below), Belrine can be seen opening one of the safes storing the more valuable instruments. The mandolin which emerges unharmed is a 1923 Gibson Lloyd Loar which have been known to sell for between $100,000-$200,000.
A fundraising page has been set up to help Berline reopen the shop.
Eric Harlow, Guthrie's fire chief wrote in a Facebook post: 'Our crews arrived to find heavy fire in the rear of Furrows Flowers and Gifts in the 100 block of East Oklahoma Avenue. The fire was already extending into Byron Berline's Double Stop Fiddle Shop to the east. '
'We were faced with an uphill battle due to the hand mother nature had dealt us in terms of the horrific winds that day. With some hard work, determination and a little luck, we were able to confine the fire to the two buildings originally involved.'