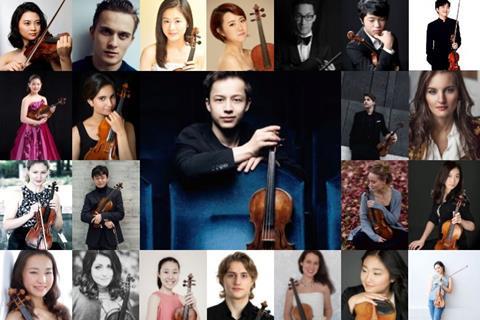 The young violinists taking part in this year's Carl Nielsen International Competition in Odense, Denmark, are today arriving and registering for what could be a career changing event.
The violin event takes place in parallel with a clarinet and flute competition, reflecting the three instruments Nielsen wrote concertos for.
The 24 competitors will play in the first round starting tomorrow, Saturday 23 March; the second round will be on 25 March with 12 contestants; and the semi-finals on 27 March with six contestants. Three finalists will battle it out in a 29 March prefinal and 31 March grand final, both times playing a 50min programme with orchestra.
This year's competitors are:
Yurina Arai (24 Japan)
Ava Bahari (22, Sweden)
Elina Buksha (28, Latvia)
Jiwon Choi (20, South Korea)
Wonbeen Chung (21, South Korea)
Johan Dalene (18, Sweden)
Anna Agafia Egholm (22, Denmark)
Kornelia Figielska (22, Poland)
Michael Germer (16, Denmark)
Ariel Horowitz (22, USA)
Marie-Astrid Hulot (21, France)
Hayato Ishibashi (27, USA)
Karen Kido (24, Japan)
Paul Kropfitsch (18, Austria)
Heemyeong Lee (26, South Korea)
Kunwha Lee (25, South Korea)
Hina Maeda (16, Japan)
Seina Matsuoka (25, Japan)
Michiru Matsuyama (27, Japan)
Kyumin Park (22, South Korea)
Sueye Park (18, South Korea)
Dmitry Smirnov (24, Russia)
Belle Ting (18 Canada)
Arata Yumi (26 Japan)
The president of the competition is Nikolaj Szeps-Znaider, who himself won the competition in 1992 in a vintage year, with Jennifer Koh and Pekka Kuusisto taking second and third place respectively.
The jury comprises:
Eugen Tichindeleanu, Odense Symphony Orchestra concertmaster
Albena Danailova, concertmaster Vienna State Opera and Vienna Philharmonic
Sergey Khachatryan, violin soloist
Nurit Bar-Josef, concertmaster of the National Symphony Orchestra (US) and founding member of the Dryden Quartet
Sally Beamish, composer
Ingrid Fliter, pianist
Kathryn Enticott, artist manager
Tobias Niederschlag, director of the Concert Office of the Gewandhausorchester Leipzig, and co-founder and artistic director of the International Shostakovich Festival In Gohrisch.
Szeps-Znaider was adamant about not using teachers in the jury, as he feels it creates conflicts of interest. 'When they first called and asked if I wanted to be the president of the competition, I said thank you very much for your call, but absolutely not,' he told The Strad.
'But I thought about it. I always like to question my own knee-jerk reactions: Why was I so quick to dismiss it? What is it I don't like about competitions? What if I could do the competition in a way which I felt could be really useful?'
Szeps-Znaider said his main ambition was to 'extend the platform of the competition'.
'The whole reason people go to a competition is because they want a platform, to showcase their talent. You want people to hear you! So what we want is to make sure that people in the industry – not teachers, but conductors, managers, orchestra managers, people with influence – get to hear the contestants.
'And more importantly that we offer the winner concerts. Yes, money is great, and we offer a nice prize [€12,000 for first place], but the main thing is that we have secured ten concerts with top Scandinavian orchestras. I think it is really unique that we can offer this to a winner – It amounts to a career launch.'