Twenty-nine young violinists will compete for a €20,000 first prize and a number of engagements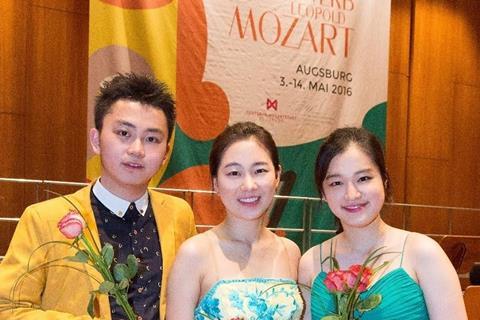 The triennial Leopold Mozart Competition in Augsburg, Germany, has named the candidates it has invited for the live rounds of its 10th edition, taking place in the 300th year since Leopold Mozart's birth.
Leopold Mozart, father of Wolfgang Amadeus, was an important figure in violin pedagogy through his Treatise on the Fundamental Principles of Violin Playing.
The competition, running from 31 May to 8 June 2019, offers cash prizes of €20,000, €2,000 and €9,000 to its top three places, as well as a CD recording and a broad selection of performance invitations
The candidates are:
Joshua Brown (USA)
Karisa Chiu (USA)
Liucong (Pamela) Feng (China)
Akiyo Fujiwara (Japan)
Hyojin Kan (South Korea)
Yoerae Kim (South Korea, *1990)
Alexander Won-Ho Kim (South Korea)
Aya Kitaoka (Japan)
Issei Kurihara (Japan)
Kunwha Lee (South Korea)
Christine Lim (USA)
Mathilde Milwidsky (United Kingdom)
Naoko Nakajima (USA/Japan)
Kaoru Oe (Japan)
Junghyun (Nari) Park (South Korea)
Johanna Pichlmair (Austria)
Hsin-Yu Shih (Taiwan)
Haruna Shinoyama (Japan)
Shin Sihan (Netherlands)
Akihiro Takeda (Japan)
Yun Tang (China)
Chinatsu Tatsumi (Japan)
Eimi Wakui (Japan)
Jaewon Wee (South Korea)
Simon Wiener (Switzerland)
Milena Wilke (Germany)
Julen Zelaia (Spain)
Sara Zeneli (Italy)
Pinhua Zeng (China)
It is the first competition under the directorship of violinist Linus Roth, who made some major changes to its regulations, including that current and former students of jurors and the artistic director are excluded from the competition, and that chamber music is now an element.
'The competition is looking for a musical personality, who can prove her or himself as a soloist and as a violinist playing with other musicians,' Roth said.
Past winners of the competition include Isabelle Faust, Benjamin Schmid and Lena Neudauer.