Her 'New Approach to violin playing' continues to be highly influential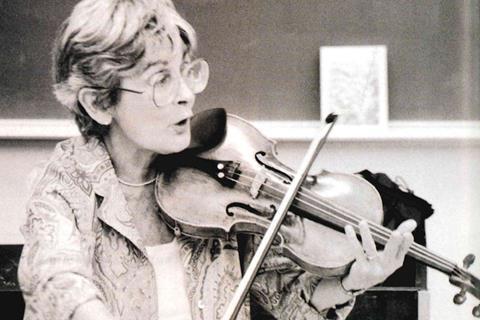 Kató Havas, the Hungarian violinist and teacher of violin and viola who developed the 'New Approach to violin playing' to help prevent physical injuries and eliminate stage fright, has died. She was 98.
Born in a tiny village in Transylvania among the Carpathian Mountains, Havas learnt to read music before she could read words.
Her first violin teacher made her sing every piece with note names while clapping the pulse with her hands before she was allowed to play it on the violin.
She gave her first recital at the age of seven in Kolozsvár playing, among other things Brahms's Hungarian Dances and Franz Schubert of Dresden's The Bee, Op 13.
Later, in Budapest, she realised that she had been taught the Kodály system.
Her affinity with the Hungarian gypsy violin began, in her words, 'before I could even talk,' and she recalled how, at the age of 9, while staying with friends, she had appeared as a dirty gypsy child and begged the guests, in gypsy style, to allow her to play a few tunes as her family was sick and dependent on her earnings.
Later, when she had owned up to her deception and tried to return the sum she had collected, the guests were so delighted with her playing that they refused to take the money back. 'That was my first professional fee,' she said.
Studying in her teens with the renowned professor Imre Waldbauer at the Franz Liszt Academy in Budapest, she met Bartók, Kodály and Dohnányi, who all turned up to watch her first recital there. It was around this time that the pressure of performances began to affect her playing physically.
By the age of 17, when she gave her Carnegie Hall debut in New York, she was acutely aware of the link between her mental state and performance quality. 'My violin went into a sulk and so did my left hand,' she recalled of the ensuing period in America. Luckily the Hungarian–American conductor Eugene Ormandy introduced her to the violinist David Mendoza, who in turn introduced her to the natural left-hand motion.
It was the final trigger she needed. During the 18 years of bringing up three daughters, Havas developed the 'New Approach', a system of violin teaching inspired by the free-flowing playing of the gypsies, Waldbauer's Gestalt, Kodály's rhythmic pulse and Mendoza's left-hand technique.
Her ideas were controversial: at a time when players were not yet ready to reveal their debilitating aches and pains for fear of losing their reputations or jobs, Havas's declaration that such suffering could be alleviated was seen as a threat to traditional teaching methods.
Nevertheless many players, some of them very well known, secretly came to her with their problems and in 1960 Bosworth and Co. asked her to write a book describing her teaching principles. It was soon a bestseller and people began to arrive for lessons from all over the world.
International lecture tours followed and, with the aim of creating a venue where her pupils could experience the elimination of stage fright under performance conditions, Havas founded a festival of music in association with her own International School for Strings on the Isle of Purbeck. She also founded and directed the Roehampton Music Festival in London and the International Festival in Oxford, where she lived for the latter part of her life.
In 2002 she was made an OBE by Queen Elizabeth II, in the Queen's Birthday Honours 'for services to music'. Her books have been translated into several languages and the 'New Approach' continues to be taught all over the world.