Danish cellist takes first place with $15,000 prize at event in Yerevan, Armenia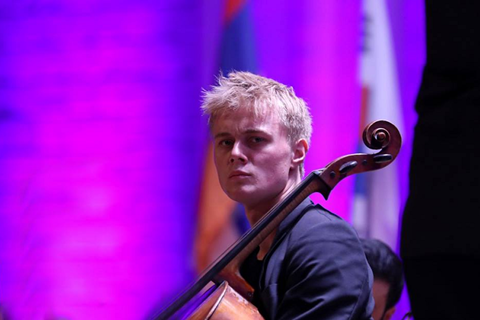 The Aram Khachaturian International Competition, which this year is focusing on the cello, has awarded its top prize to Danish cellist Jonathan Swensen.
Born in 1996, Swensen studied previously at the Royal Danish Academy of Music and currently at the Norwegian Academy of Music in Oslo.
In a gala concert and awards ceremony on Thursday 14 June at the Aram Khachaturian Concert Hall in Yerevan, with the State Symphony Orchestra of Armenia, Swensen was presented with the $15,000 first prize; second prize went to Russian cellist Fedor Amosov; and Rustem Khamidullin (Russia) and Chae-Won Hong (South Korea) shared third place.
Polish composer Krzysztof Penderecki presented the awards.
The annual competition began in 2003 on the 100th anniversary of Aram Khachaturian's birth and rotates through piano, violin, cello, conducting and voice categories. It's previous cello editions were won by Narek Hakhnazaryan (2006) and Andrei Ioniță (2013).