Colleague and long term friend Moray Welsh remembers a hugely influential teacher and mentor who has died aged 76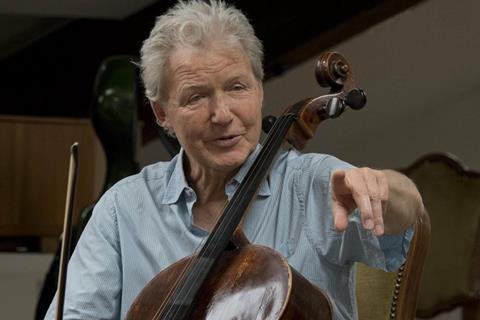 Johannes Goritzki, the distinguished German cellist and conductor, died on 22 December in Lugano, Switzerland. He was 76. Goritzki was an outstanding and original cellist who eschewed the limelight in favour of a career rooted in serious musicianship, which led him into delving into lesser-known repertoire both on and off the cello. Highly respected by other musicians such as Yehudi Menuhin, and Radu Lupu, of whom he was a close friend, throughout his career Goritzki valued integrity more than flashy exhibitionism on the concert platform.
Born in Tübingen in 1942 to musical parents (his mother an amateur singer, his father a gifted amateur pianist with a marked talent for improvisation), Goritzki grew up in a family of six children, four of whom were to go on to have distinguished careers in music. Two of them, Deinhardt (violist) and Ingo (oboist) became principal players in major orchestras, in Munich and Stuttgart. The other siblings also followed careers in the arts, strongly influenced by their parents' love of music and theatre.
His own studies commenced in Freiburg with Atis Teichmanis, but his main inspiration came from three of the great luminaries of 20th-century cello playing: Pablo Casals, Gaspar Cassadó and André Navarra, with all of whom he studied. Few cellists could boast such close associations with such a stellar triumvirate, but it was Cassadó who became his principal mentor and father figure. With these diverse influences he was uniquely equipped to have a catholic approach to style and technique, rather than a myopic adherence to any particular 'schooling'. Goritzki went on to have a distinguished international career as a solo cellist, playing in the Berliner Festwochen, Gstaad Festival, Lockenhaus Festival, Flanders Festival and many others, both as soloist with orchestra and in chamber music partnerships with musicians such as the oboist Heinz Holliger and the violinist Gidon Kremer. As a guest several times at the Marlboro Music Festival USA, he partnered Rudolf Serkin and Mieczysław Horszowski, both of whom had a profound influence on him.
While continuing to play the cello Goritzki then turned his focus on conducting, and in 1980 he founded the Deutsche Kammerakademie, with whom, alongside the traditional repertoire of classics, he explored the music of a number of neglected composers, such as George Onslow, Louise Farrenc and Carl Heinrich Graun, as well as more mainstream contemporary works of Penderecki, Sándor Veress, Ligeti and Isang Yun. 'Searching the "unknown" has always been my passion,' he once said. As a soloist and conductor with the Kammerakademie he toured internationally to Australia, South America, Japan, China, Mexico and numerous other countries. Soloists under his baton included Yehudi Menuhin, Radu Lupu, Nikita Magaloff and Thomas Quasthoff. He also guest conducted many other orchestras in Europe, including most of the national radio orchestras in Germany.
Another great love of his was chamber music, and he partnered many other outstanding players in 'ad hoc' groups for chamber music festivals throughout Europe. With these collaborators, such as Saschko Gavrilov, violinist, and his regular duo partner Pavel Gililov, he had an extensive knowledge of the core classical chamber music repertoire. Goritzki's CD repertoire of over 40 discs also included many lesser known works, such as the Cello Concerto of Othmar Schoeck (which won a Grand Prix du Disque) and works by Hilding Rosenberg and Allan Pettersson.
Apart from his searching musicianship (which took nothing for granted) Goritzki's own playing was notable for the production of a deep sonority (in tandem with his magnificent Matteo Goffriller cello) and above all an uncompromising approach to the integrity of the music. While some players in the Kammerakademie at times found his commitment to his vision inflexible, the vision was always informed by deep convictions.
It was thanks to the Hungarian violinist Sándor Végh's admiration for Goritzki that he first came to the UK to the 1980 the International Musician's Seminar in Prussia Cove. Reciprocally Goritzki was particularly inspired by Végh's 'speaking' way of playing, as well as his admiration of several great singers and was in the role of teacher that Goritzki left his most enduring legacy, a career in tandem with performing. He held positions at the Trossingen Hochschule, Robert Schumann Hochschule in Düsseldorf, and in more recent years the Conservatorio della Svizzera in Lugano and the Royal College of Music in London, where he was visiting 'Prince Consort Professor' from 2010.
As his reputation as a teacher grew, places in his classes were in high demand, but many other students came into contact with him in masterclasses as far apart as Shanghai, Seoul and European cities. Goritzki had a particularly strong connection with the UK and taught several generations of outstanding British cellists, many of whom have gone on to international careers.
Though diagnosed with cancer over six years ago, it was entirely typical of the man that he chose to keep this very private, mainly with a view to continuing his teaching and playing commitments with as little interruption as possible. That he chose to overcome his illness in this way was typical of his strength of mind and courageous individualism, much like his life as a musician.
Goritzki was first married in 1977 to Uta Schlichtig, by whom he had four children, and then to Esther Funk, trumpet player and artist, who cared for him devotedly through his last illness. Both survive him along with his four children.
Photo: courtesy Musica Ticino