This year's awards highlighted artists making an impact on promoting diverse voices in classical music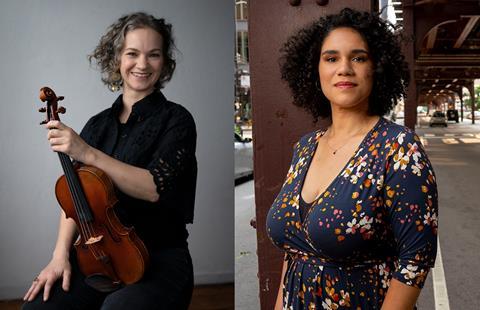 Read more news articles here
The publication Musical America announced the winners of its 62nd annual awards on 11 October 2022.
US violinist Hilary Hahn was named as artist of the year for her work in widening violin repertoire in the form of commissions, as well as furthering musical education. In an interview with Musical America, Hahn cited the use of technology helped ease her isolation during the pandemic, as well as the use of her extensive platform to shine a light on underrepresented composers and promote inclusivity.
'After George Floyd was murdered, I spent a lot of time figuring out why I didn't have equitable representation in my work,' said Hahn. 'I looked at what the gaps were and what had stopped me from noticing them.
'The risk, when we keep following the same patterns, is that we hear the same things,' she continued. 'But the arts are the emotional document of history. It's important to invite all experiences to get involved.'
Jessie Montgomery was named as composer of the year. A Juilliard-trained violinist, Montgomery steered towards composition in her 20s as a way to voice her own Black identity through music. 'In classical music, we didn't talk about Black people,' Montgomery told Musical America. 'My identity was not represented; it wasn't important to learning and being good at this music.'
Montgomery is currently in her second year as composer in residence at the Chicago Symphony, and was named composer in residence at Bard College Conservatory of Music earlier this year.
Semyon Bychov as conductor of the year and Yuval Sharon as director of the year. 'Each of these talents have, in their own unique ways, advanced the artform far beyond any expectations, and have brought entirely new perspectives and vistas to the performing arts,' said Stephanie Challener of Musical America.
The awards will be presented on 4 December 2022 on Facebook Live. Conductor Leonard Bernstein was the first artist of the year to be named in 1961, with previous winners including Yo-Yo Ma, Yehudi Menuhin, Nathan Milstein, Itzhak Perlman, David Finckel and Wu Han, the Kronos Quartet and the Juilliard Quartet.